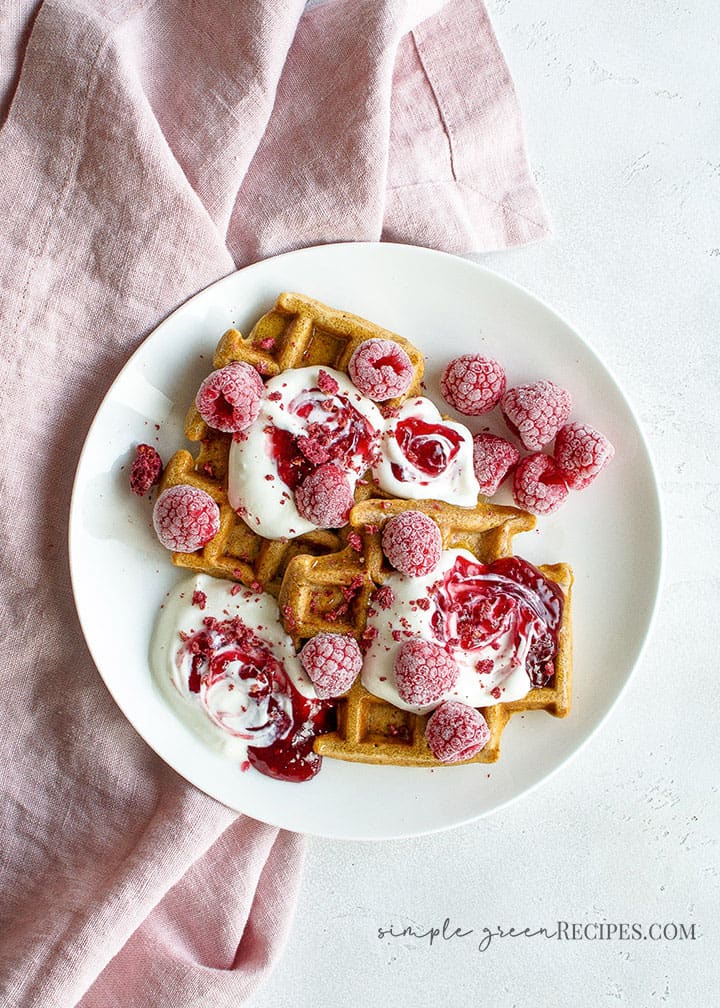 I have been a big fan of waffles since I was in Paris for the first time. Waffles, together with crepes, éclairs and macarons were among my favorite pâtisserie desserts the two weeks I was there.
As you may have already guessed, I have a serious sweet tooth, so Paris was my favorite of all the cities I visited as a teenager. Even though I was there for almost fifteen days, I could not get enough of them.
These vegan spelt waffles are just as delicious as those Parisian waffles I devoured there! And they're divine served with a creamy yogurt, any jam of your choice, fresh fruit or whatever you fancy. I went with coconut yogurt, raspberry jam and raspberries. It was seriously good.
This is a classic waffle recipe, just without the eggs and dairy. These waffles are fluffy and soft on the inside, with the slightest golden crisp on the outside.
They are just perfect for a big weekend breakfast. As spring rolls in, I find myself waking up earlier and leaving myself more time for a big breakfast than I do in the winter (thank you sun!!).
Saturdays are usually for exercising, running some errands and do the shopping, which calls for a big, filling breakfast. AKA vegan spelt waffles.
Tips for perfectly cooked waffles
Waffle batter should have the consistency of pancake batter, not too thin, but not too thick either.
Your waffle iron must be hot before pouring the batter on.

Spraying your waffle lightly with oil before using.

Do not open the waffle maker until it stops steaming.
How to keep waffles warm and crisp
Set your oven to to 200°F (100ºF) .
Place a cooling rack on top of a cookie sheet and put it into the oven. Place the waffles directly on the rack, that way the hot air circulates around the waffle to keep it crisp.
Serve all waffles at the same time when done and enjoy breakfast together!
RECIPE
Easy Vegan Spelt Waffles with Coconut Yogurt & Jam
Perfect for breakfast, this easy vegan spelt waffles with coconut yogurt and raspberry jam are made with just 6 ingredients!
Ingredients
For the Waffles

2

cups

Spelt flour

1 ½

tsp

baking powder

2

cups

almond milk

3

tbsp

almond butter

3

tbsp

vegetable oil

⅓

cup

cane sugar

For the Toppings

1

coconut yogurt

½

cup

raspberry jam

1

cup

raspberries
Instructions
Preheat waffle iron according to manufacturer's directions.

Combine all ingredients in a blender and blend until smooth, about 20 seconds.

Scoop about ⅓ cup of batter into each waffle mold and cook for 2-3 minutes or until golden brown. Time will vary depending on your waffle maker.

Top with your favorite toppings. I used coconut yogurt, raspberry jam and frozen raspberries. Enjoy!
Looking for more vegan waffles from Simple Green Recipes?
Easy Vegan Gluten Free Waffles
Gluten-free Vegan Buckwheat Waffles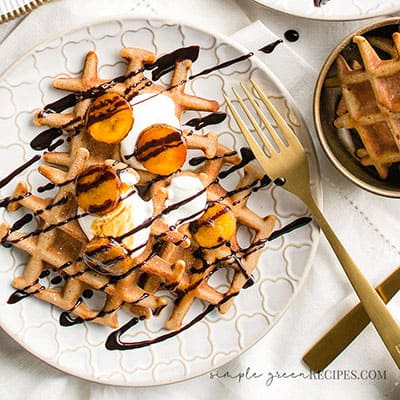 More waffle recipes from favorite bloggers:
Lemon Blueberry Waffles by Minimalist Baker