Easy Gluten-free Vegan Pizza made with a basic vegan & gluten-free dough and topped with vegan cheese, delicious pesto, spinach and mushrooms.
You are going to love this vegan pizza! The dough is super easy to make, almost no kneading is required and all you need is 5 basic ingredients. Oh and the best part is that it's ready to bake in 20 minutes.
This pizza crust is both vegan and gluten-free. It is a very forgiving crust and pairs really well with sautéed veggies too. It is also freezer friendly, which makes it perfect for those lazy Friday nights. Just needs to be thawed in the fridge overnight before you use it.
How to make the pesto sauce
Pesto sauce is one of the easiest things to make. You just need a hand blender or a food processor. A hand blender is what I use most of the time since my food processor is quite big.
If you used to buy store-bought pesto, you will soon realize that homemade pesto is much more tasty, fresh and flavourful than the store-bought pesto. I always have a jar of it in the fridge, it's a life saver!
In a blender or food processor, pulse the dry ingredients until smooth and combined.

Then, add the olive oil, lemon juice and water. Extra-virgin olive oil adds richness and a slightly deeper flavor.

Puree until the mixture is smooth and well mixed.

Scrape down the sides of the bowl or cup if needed.

If you like a thinner pesto you can add a little more olive oil or water.
Easy Veggie Gluten-free Pizza
Yield: 1 pizza

Prep Time: 20 minutes

Cook Time: 15 minutes

Total Time: 35 minutes

Easy Gluten-free Vegan Pizza made with a basic vegan & gluten-free dough and topped with vegan cheese, delicious pesto, spinach and mushrooms.
Ingredients
For the Crust:
1 teaspoon active yeast
½ cup warm water
1 ¼ cup all-purpose GF flour
¼ teaspoon salt
1 teaspoon olive oil
For the toppings:
4 oz vegan cheese
½ cups pesto sauce
2 cups fresh spinach
2 cups mushrooms (portobello, yellowfoot)
For the Pesto Sauce:
2 cups packed fresh basil
3 tablespoons pine nuts or walnuts or sunflower seeds
2 cloves of garlic, peeled
2 tablespoons lemon juice
1 tablespoon nutritional yeast (optional)
¼ teaspoon salt
3 tablespoons virgin olive oil
3 tablespoons water, or more if needed
Instructions
In the bowl of a stand mixer, combine the flour, instant yeast, and warm water. Let it sit for a few minutes to activate.
Add the olive oil and the salt and mix in.
Knead for a few seconds into a soft slightly sticky dough. Finetune the dough: If it's too sticky, add more flour. If it's too crumbly, add more water.
Gather the dough into a ball and let it sit for 15 minutes in a warm place.
Carefully roll it out on a lightly floured parchment paper into a 13 to 14 inch size oval (don't use too much pressure). You can stretch it a bit with your hands until it has the right shape.
Top the pizza dough with vegan cheese, pesto sauce, lightly steamed spinach and fresh mushrooms. Drizzle the veggies with some more pesto.
Bake the pizza for around 18 minutes or until golden on the edges. Enjoy!
If you liked this recipe don't forget to Pin and share with your friends!
Did you make this recipe? Tag

@simplegreenrecipes

on Instagram
---
Looking for more savory ideas from Simple Green Recipes?
Roasted Vegetable Quinoa Bowl (Vegan, Gluten-free)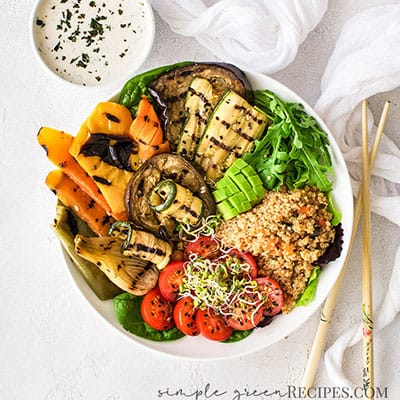 Vegan Avocado Cream Cheese Sandwich
---
More vegan pizzas from favorite blogs:
Vegetable Fajitas Tortilla Pizza from Vegan Richa