These Healthy Candy Cookie Bars are the perfect way to use all that leftover Halloween candy and turn it into soft, thick cookie bars loaded with chocolate and delicious candies. The perfect treat for a snack or dessert. It's vegan, gluten-free, and refined sugar-free.
I have never been a great fun of sweeties, have you? Frankly, it's ages since I last bought sugar candies. I'm more a chocolate lover myself and, as I quit sugar a few months ago, sugar-free chocolate has become my new addiction.
Halloween is becoming increasingly popular here in Barcelona, and although we have our own traditions for the 31st October and 1st November, nobody wants to miss the opportunity to go to a Halloween party and dress up like a zombie. As could not be otherwise, my house was no exception.
I made those Healthy Candy Cookie Bars for a Halloween friend's gathering at my place, and they loved it. Most of the people that surrounds me have a sweet tooth, but any sweet doesn't do the trick. We all have become very picky when it comes to food. So, if you're looking for a wholesome and healthy treat to stuff with your favorite candies, these Candy Cookie Bars are the way to go!
What are Healthy Candy Cookie Bars?
Healthy Candy Cookie Bars are the perfect combination of cookie dough and healthy chocolatey candies. Although, to tell the truth, these recipe will work with whatever candies you choose except gummies. Wondering what to do with leftover Halloween candy? Think no more and mix them in, you can't go wrong with these delicious cookie bars.
What Kind of Candy Works Best in Healthy Candy Cookie Bars?
Any kind of candy will do the job, but personally, I prefer chocolate bars and chocolate candies, as well as chocolate covered nuts, like peanuts and almonds. Anyway, this recipe is really customizable so whatever you have in hand will do!
Are you in love with Reese's, M&M's, Snickers or Twix? Chop them up and mix them into this chewy candy cookie bars. Halloween is the one day of the year when it's allowed to eat as much candy as one wants.
Tips For Making Healthy Candy Cookie Bars
Line your baking pan with parchment paper. It makes it easier to lift the entire cookie bar out and then easily cut into squares. Not to mention that cleaning the pan later is a breeze.

Use a 8-inch square pan. The cookie dough should be around 3/4 inch thick when spread into the pan. If you use a larger pan, the dough will be thiner and you'll get crumbly bars.

Don't over mix your batter. In theory, most pre-made gluten-free flours use gums and/or thickening agents. If you over mix your dough, you may end up with a tough cookie bar.

Don't over bake either. Bake for 25 to 30 minutes just until golden brown and still gooey in the center.
How To Store Healthy Candy Cookie Bars
These Candy Cookie Bars will keep fresh for up to 3 days stored in an air tight container. I've found that as days goes by the bars get drier and tougher. If you don't plan to eat them within 3-5 days, is better to freeze them.
These cookie bars freeze well. Start by placing parchment paper in between the bars, this will prevent the bars from sticking while they freeze. For short-term storage of a few weeks, wrap the bars in plastic wrap and place them into a plastic freezer bag or airtight container.
If freezing them for longer, use a double layer of plastic wrap. Write the content and the date on the bag or container and place the cookie bars into the freezer. You can freeze them for up to three months.
When ready to eat your frozen cookie bars, remove them from their containers or bags and let them thaw in the fridge overnight. Alternatively, you can let them thaw at room temperature for at least three hours. Some bars can take longer to thaw.
Healthy Candy Cookie Bars
These Healthy Candy Cookie Bars are the perfect way to use leftover Halloween candy and turn it into soft, thick cookie bars loaded with chocolate and delicious candies. The perfect treat for snack or dessert. It's vegan, gluten-free and sugar-free. 
Ingredients
Dry Ingredients:
1 tablespoon ground flaxseed
1 cup gluten-free all purpose flour (or regular all-purpose flour)
1/2 cup almond meal
3/4 cup packed brown sugar
1/2 teaspoon baking powder
1/2 teaspoon salt
Wet Ingredients:
1/2 cup almond butter
1/2 cup almond milk
1 teaspoon vanilla extract
Chocolate Candies:
1/4 cup dark chocolate covered peanuts
1/4 cup colored chocolate covered peanuts
1/3 cup dark chocolate covered almonds
6 dark chocolate bars
Instructions
In a small bowl, prepare your flax egg by mixing the ground flaxseed with 3 tablespoons of water. Mix together and leave for 5-10 minutes, until it thickens and you get this jelly-like texture. 
Preheat the oven to 350ºF / 180 ºC. Line and grease an 8 x 8-inch pan. 
In a medium bowl, whisk together the flour, almond meal, brown sugar, baking powder and salt. 
In a large mixing bowl, combine the flaxseed mixture, almond butter, almond milk and vanilla extract. 
Add the flour mixture to the wet ingredients and mix well, until well combined. Do not over mix. 
Fold in the chocolate covered peanuts and almonds, reserving the chocolate bars to top the cookie bars.
Pour the cookie bar batter into the prepared pan, spreading out evenly. Top with the reserved chocolate bars and bake for 25-30 minutes, until the top is golden brown. For super gooey bars, only bake for 20 minutes.
Remove cookie bars from the oven and let them cool in the pan for 30 minutes. Use the parchment paper to lift the cookie bars out of the pan. 
Once the cookie bars are cool, cut into 16 bars and enjoy!
If you liked this recipe don't forget to Pin and share with your friends!
Did you make this recipe? Tag @simplegreenrecipes on Instagram
---
Looking for more vegan desserts from Simple Green Recipes?
Vegan Pumpkin Chocolate Chip Bread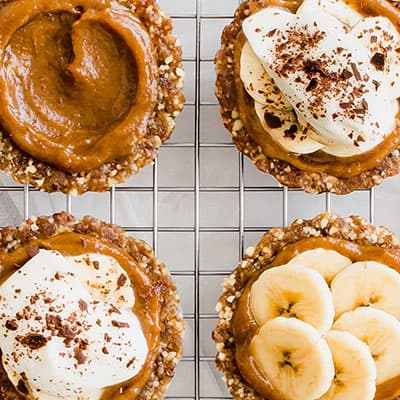 ---
More dessert ideas from favorite blogs:
Cashew Tahini Bars from Running On Real Food