Honestly, this adorable Vegan Raspberry Hand Pies could be my favorite. Easy to make, not too sweet and they take less time to bake. The perfect treat to take with you anywhere or to throw a cute sweet party!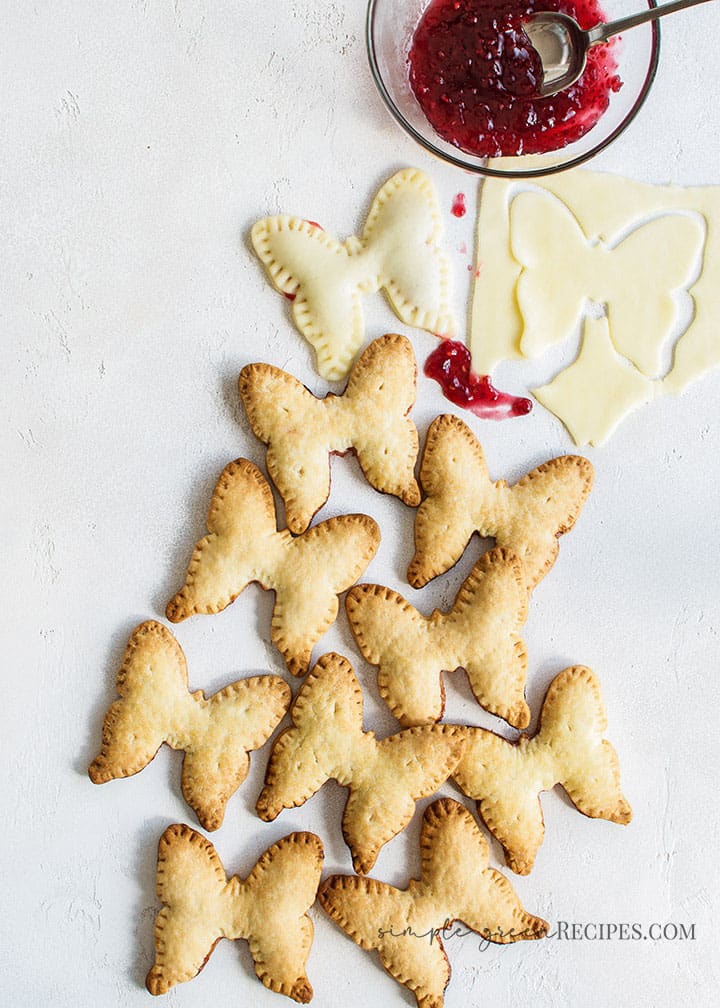 Vegan Raspberry Hand Pies
Have you ever heard of something more spring-like than that? If you have ever been in Barcelona, you will know spring is synonymous with sunny 20ºC days, longer afternoons and the beginning of the berry season.
Berry season, or rather strawberry season at first, I'd say. And though I absolutely love strawberries, I'm always waiting for raspberries to come.
Of all the fruits, berries are my absolute favourite. But I do discriminate, I have a thing for raspberries. So when I decided to make jam filled hand pies, it had to be with raspberry jam.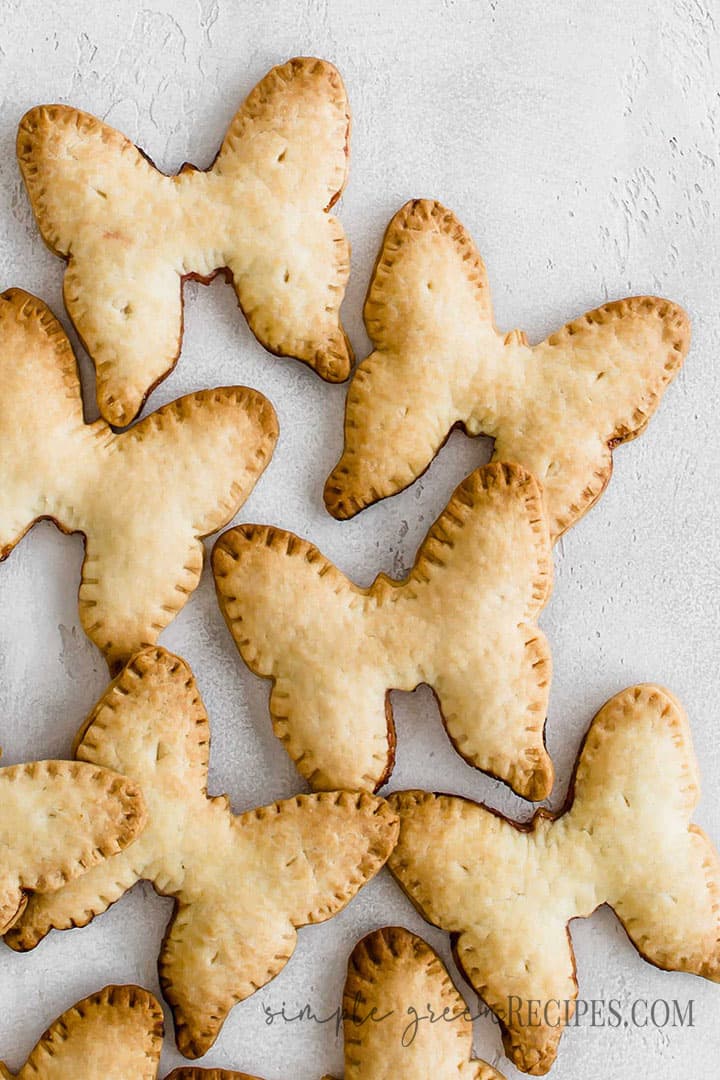 Oh, and haven't I told you I love pies as much as I love berries? I think I'm the biggest fan of pies…pumpkin pie, chocolate pie, lemon meringue pie, berry pie, gimme all of them! With spring on the horizon, I chose vegan raspberry hand pies for this post.

Honestly, this adorable hand pies could be my favorite. Easy to make, not too sweet and they take less time to bake.
Another thing that I love about these vegan raspberry hand pies is that you can get as creative as you want with them. You can cut them large and fold the pie crust to make them look more like a turnover or use different cookie cutters to shape them however you like.
Tips for the perfect vegan raspberry hand pie
Use jam or cooked fruit to fill your pies. Cooked fruit has a more intense flavor than fresh fruit.

Don't roll the dough too thin or your filling is going to pass through.

Don't fill your pies too much or it will be difficult to assemble and seal them.

Seal the pies firmly, this will prevent them from leaking around the edges.

How to make raspberry jam?
I used to think it would be a complicated process. But once I'd made it, I realized that it couldn't be simpler. All this magical jam needs is berries and sugar. And believe me, there's nothing that makes you feel more like an accomplished cook for so little work.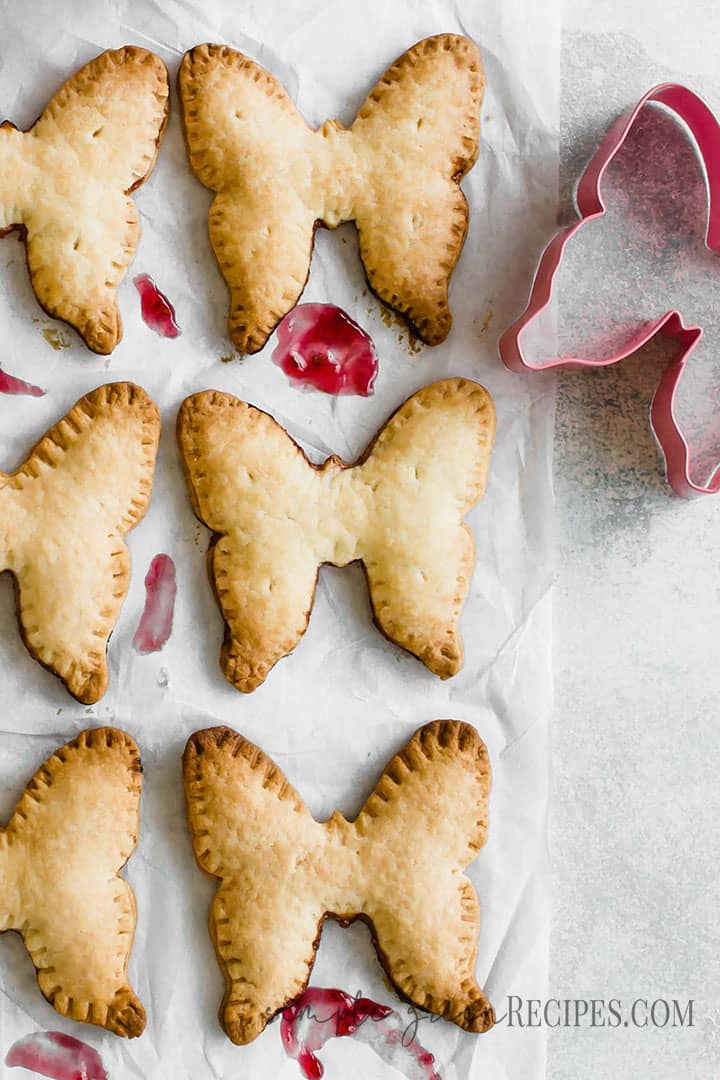 Simply cook your fruit until it starts to break down. Add in some lemon juice and sugar. Let it cool slightly and transfer to airtight jars.
When making jam to fill pastry, I like to add a pinch of corn starch or xantham gum to thicken the jam so the filling doesn't leak as much as it would if I didn't add any thickener.
RECIPE
Vegan Raspberry Hand Pies
Easy Vegan Raspberry Hand Pies with a pre-made crust and delicious homemade raspberry jam filling, which can be served anytime and anywhere. Great for an outdoor gathering.
Ingredients
For the Homemade Raspberry Jam
12

ounces

fresh raspberries

1

cup

granulated sugar

1

tablespoons

lemon juice

2

pinches

xantham gum
For the Vegan Raspberr Hand Pies
4-

inch

butterfly shaped cookie cutter

2

packages store-bought vegan pie crust

3

tbsp

free-dairy milk
Instructions
Put the raspberries, sugar and lemon juice and cook until boiling. Once boiling, turn heat to low and simmer for 15-20 minutes, stirring regularly. Smash the berries while they cook.

Remove from heat and strain out the majority of the jam's liquid.

Take a couple of pinches xanthan gum and sprinkle it evenly into the pan, stirring well to combine. Place in fridge to cool to room temperature.

If you use cornstarch, first dissolve it in a tablespoon of water. Make sure your jam is bubbling and then add the cornstarch mixture. Low the heat and stir until everything is well combined. 

Preheat oven to 400°F. Line 2 large cookie sheets with parchment paper.

Unroll pie dough and using the cookie cutter, cut dough into butterflies. Place them on the cookie sheet. Scoop about 2 teaspoons jam on each butterfly, then top with an additional butterfly. Press with your fingers to seal. 

Grab a fork and press along the edges to create a ripple and to seal the dough again. Cut four slits in the top of the pie crust to allow steam to escape.

Lightly brush the top of the pie crust with the free-dairy milk.

Bake for 10-15 minutes, or until golden brown.

Let cool a few minutes before serving!
If you liked this recipe don't forget to Pin and share with your friends!
Did you make this recipe? Tag

@simplegreenrecipes

on Instagram
---
More vegan pies from Simple Green Recipes?