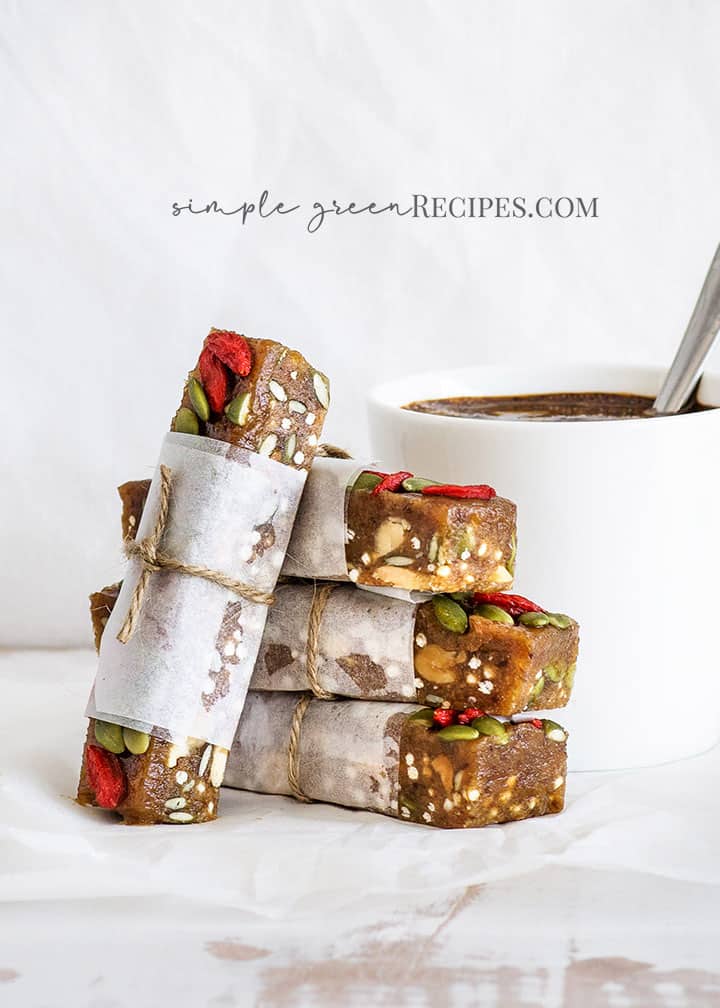 These healthy Raw Seedy Energy Bars are a mix of dates, seeds and nuts. This recipe is incredibly easy to make, takes very little time and it can be a great alternative to the snacks, easy desserts and pre or post workout store-bought bars.
I don't tend to buy energy bars quite often but I like to have some on hand whenever I need them. So, I sometimes make them. I made those last week and took some pictures to share them with you. It's a really easy and quite quick recipe. The bars are not too sweet, a bit crunchy and really filling! I definitely recommend you try and make them!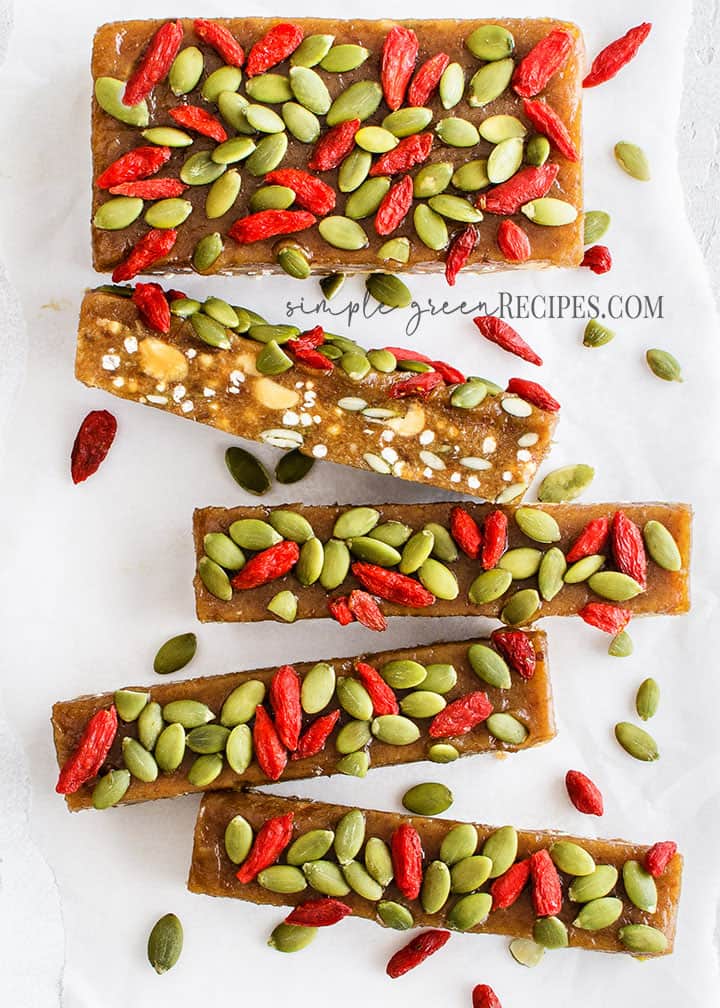 How to make Energy Bars
To make these energy bars you basically need dates and a combination of your favorite nuts and seeds. Feel free to add dried fruits too if you like them in your bars.
First, we need to combine our sticky ingredients so our bars stay together. For this bars, I used dates, peanut butter and maple syrup. I also put some almond meal for an extra boost of proteins and fiber.
Then, add the dry ingredients that are the seeds, nuts and puffed quinoa for this recipe. Mix them up and pour into a greased baking dish and place them in the fridge or freezer, to allow them to chill and set up before cutting them.
And that's it. The magic of this bars is that we don't have to bake them!
Keep these energy bars in an airtight bag in the refrigerator or in the freezer. I keep them in my freezer and can pull them out anytime. They come to room temperature in about 15-20 minutes.
RECIPE
Raw Seedy Energy Bars
These healthy energy bas are a mix of dates, seeds and nuts. This recipe is incredibly easy to make and takes very little time.
Ingredients
1

cup

dates

¾

cup

almond meal

2

tablespoon

peanut butter

1

tablespoon

maple syrup

¼

cup

pumpkin seeds

⅓

cup

peanuts

¼

cup

puffed quinoa
Instructions
Line a lightly greased 8" x 4"/ 20x10cm rectangular pan with non-stick baking paper.

Mix the dates, almond meal, peanut butter and maple syrup in a food processor, and process until smooth.

Add the the pumpkin seeds, peanuts and puffed quinoa and combine well stirring with a spatula.

Pour the mixture into the pan and smooth the top with a palette knife.

Place in the refrigerator or freezer to chill for at least 2 hours.

Let them cool completely and cut into rectangles and store in the fridge.
Looking for more healthy snacks from Simple Green Recipes?
Vegan Gluten-Free Fudge Brownies with Chocolate Ganache
Vegan Gluten-free Caramel Banana Bread
More snack recipes from favorite blogs:
Oatmeal Raisin Cookie Granola Bars from Sally's Baking Addiction