Have you ever woken up wishing you had a delicious stack of fluffy, homemade and still warm donuts waiting for you on your kitchen table? It happens to me quite often. Though I don't discriminate here. Finding a stack of pancakes or waffles would be just as wonderful as finding some of these Vegan Gluten Free Blueberry Glazed Donuts!
But, more often than not, there is a pile of dishes instead, in my apartment kitchen waiting for me to get up. Hahaha, I'm glad I got myself a dishwasher as soon as I moved to my new flat!
Last week, however, my sunny kitchen magically turned itself into a donut-making factory. And I have no complaints with that. It was like having one of those fancy donut shops with vegan options coming to me, and I got to stay in my pajamas the whole time.
I made a big batch this time and froze some before glazing them. They unfreeze in no time and are super delicious just a bit warm and frosted with a simple and healthy glaze like the blueberry glaze I made for this recipe. Perfect for breakfast or a sweet treat.
How to make vegan gluten-free donuts
Have you tried making baked donuts before? If so, you will know it's one of the easiest treats to make. You don't need a deep fryer, any yeast or any fancy ingredients to make these vegan gluten-free donuts. The only thing you'll need to get yourself is a donut pan. I highly recommend getting one (or two ;-)) so you can make your very own baked vegan donuts at home!
Let me walk you through the steps on how to easily make these donuts:
First, mix the vegetable milk, sugar, coconut oil and vanilla extract.

Then, sift the dry ingredients in a large bowl.

Then, mix wet and dry ingredients until combined.

Spoon into a greased donut pan.

Bake for about 10-12 minutes and let the donuts cool.

Top with glaze
Pretty simple right? And the best part is that you don't need to use any mixers for this recipe, you can easily mix them by hand.
RECIPE
Vegan Gluten-Free Blueberry Glazed Donuts
Healthy Vegan Gluten Free Blueberry Glazed Donuts, made with wholesome ingredients and perfect for breakfast or dessert!
Ingredients
For the Donuts:

1

cup

oat milk

½

cup

brown sugar

¼

cup

coconut oil

1

teaspoon

vanilla extract

1

cup

+ ⅔ cup Gluten-free all-purpose flour

1 ½

teaspoons

baking powder

½

teaspoon

fine sea salt

For the Glaze:

1

cup

powdered sugar

¼

cup

fresh blueberries

1

teaspoon

lemon juice

1

tablespoon

water
Instructions
Mix the oat milk (a bit warm, to melt the coconut oil), sugar, coconut oil and vanilla extract in a medium bowl.

In another bowl, sift the flour, baking powder and salt.

Then combine well dry and wet ingredients. Don't over mix the batter or you will likely end up with too dense donuts.

Pour the batter into the donuts pan an bake at 340ºF/ 170ºC for 10 minutes or until a toothpick comes out clean.

Remove from oven and let cool in pan for 5 minutes, then transfer to a cooling rack to cool completely.

Make the glaze by placing the blueberries, lemon juice and water in a small saucepan over medium heat. When the blueberries release their juices, use an immersion blender to puree the blueberries. Whisk in the powdered sugar until smooth and you achieve your desired consistency. Add more powdered sugar if necessary. 

Once the donuts are cooled, dip them in the glaze. Let sit for 20 minutes until the icing is set. And enjoy!
Looking for more vegan/gluten-free treats from Simple Green Recipes?
Gluten-Free Chocolate Frosted Donuts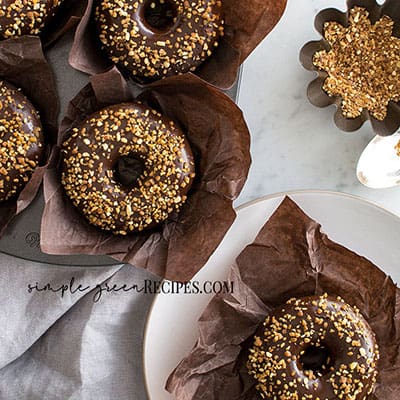 More sweet recipes from favorite blogs:
Tall Blueberry Muffins from Pies and Tacos