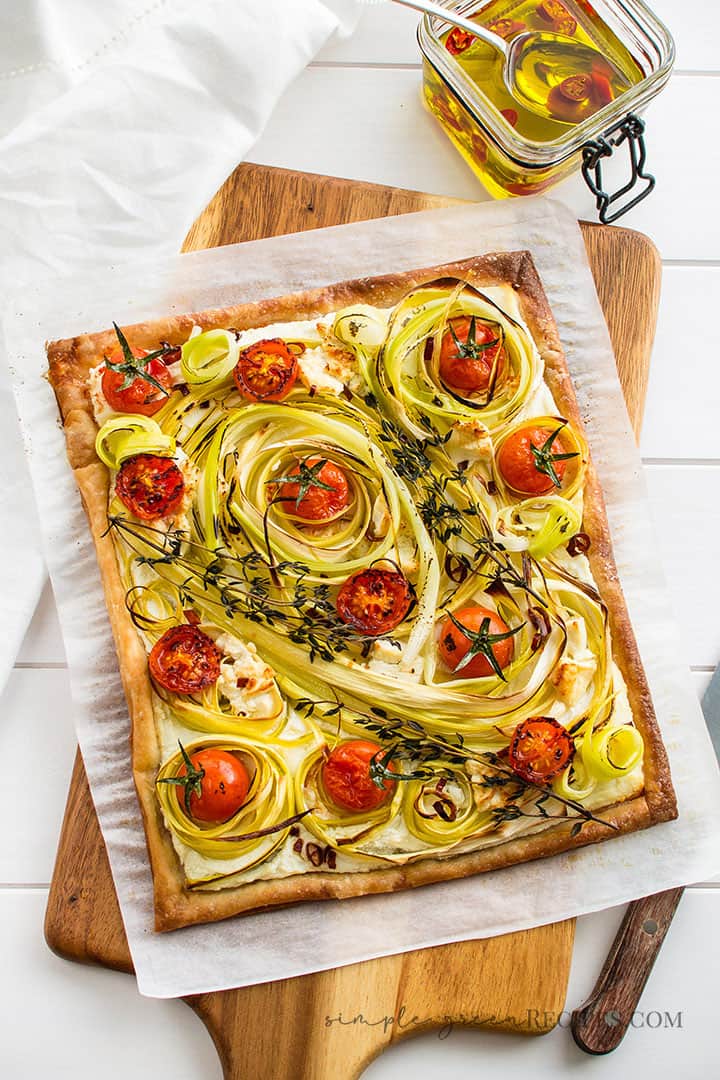 One dish guaranteed to put you in a festive mood, is this healthy Vegan Leek and Tomato Tart. It's one of my favorites to cook when I have family and friends coming around. It's easy and quick to prepare and everybody loves a crunchy pastry with flavorful roasted veggies on top.
I associate vegan leek and tomato tart with feasting with my family. Rolling out dough, making the tart and watching everybody devour it in just minutes is a real pleasure. Yes, literally. Every time I make veggie tarts, they are a total success!
Ideally, you would make this with organic beautiful tomatoes, but any tomatoes will do, just make sure they are tasty ripe ones. As for the leeks, I always look for leeks that have as much white and light green as possible, and with crisp and firm stalks. To me, smaller leeks seem to be more tender.
Leeks are available almost all year round nowadays. Recently picked leeks will keep fresh in the fridge for one or two weeks, as long as you store them unwashed and untrimmed. Put them in sealed bag or wrap in plastic to help them retain moisture.
This Vegan Tomato Leek Tart is made with my all-time favorite dough, puff pastry. I sometimes think I'm the number one fan of this dough, I use it for both savory and sweet tarts. And if you haven't yet, try the vegan puff pastry next time you plan on making one of these veggie tarts, you will love it.
Tips for making the best vegan tomato and leek tart
This is a very simple tart, anyway I gathered some tips for you so you get the best vegan tart from the beginning:
Don't overload the toppings. Try not to put too much cream cheese or toppings on this leek tomato tart. Too much cream cheese will make the tart soggy and you won't get the crisp crust you are looking for. Also, the tart will take longer to cook.

Thinly slice the leeks. If leeks are sliced too thick, they won't cook all the way in the oven and won't be as tender as they can be.

Keep an eye on your tart. Once it's done, regularly check if the leeks are done to prevent them from burning.
Can I freeze a puff pastry veggie tart?
Needles to say, the tart is best eaten the day it is made but you can store it in the refrigerator for up to four days. It's actually delicious cold, so don't feel like you have to heat it up.

You can also freeze the tart if you need it. First, bake it and, when it has cooled down, wrap it in plastic wrap and freeze it.

Thaw it in the fridge overnight and, once ready to use it, reheat it in the oven at 350F/176C until it's heated all the way through. If the tomatoes and crust start to get too browned you can cover with foil to prevent burning.
RECIPE
Vegan Leek and Tomato Tart
This Puff Pastry Vegan Leek and Tomato Tart is dairy-free, easy to make and absolutely delicious. It's made in less than 30 minutes. Perfect for a healthy lunch or dinner!
Ingredients
1

cup

virgin olive oil

1

dry red chili

1

sheet vegan Puff Pastry

1

cup

vegan cream cheese

2

medium leeks

sliced

2

cups

Cherry Tomatoes

halved

Salt and pepper to taste

Thyme to taste
Instructions
Preheat oven to 180ºC/350ºF. Line a baking sheet with baking paper and set aside.

Prepare the Spicy Chilli Oil by placing the oil and the dry red chili in a small saucepan, and bring to boil for one minute. After that, remove from heat and let cool to room temperature. Store in an airtight bottle or jar. 

Unfold the puff pastry and place it onto prepared baking sheet. 

Use a sharp knife to score the perimeter of the dough 1-inch from the edge, making sure not to cut all the way through the dough. Prick pastry in a few places with a fork inside the scored rectangle so that the center of the pastry does not puff in the oven.

Spread the cream cheese on the pastry, arrange the sliced leeks and the halved tomatoes over the cheese. Drizzle everything with spicy chili oil, around 2 tablespoons, and sprinkle with salt and pepper.

Bake in oven for 15 minutes or until the edges of pastry are browned, puffed, and crisp. Let tart cool 10 minutes before cutting into pieces.
If you liked this recipe don't forget to Pin and share with your friends!

Did you make this recipe? Tag

@simplegreenrecipes

on Instagram
---
More lunch/dinner ideas from Simple Green Recipes: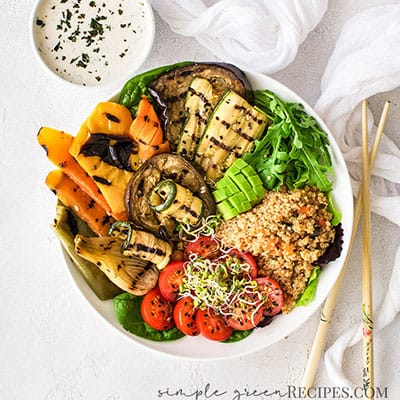 Teriyaki Chickpea Avocado Buddha Bowl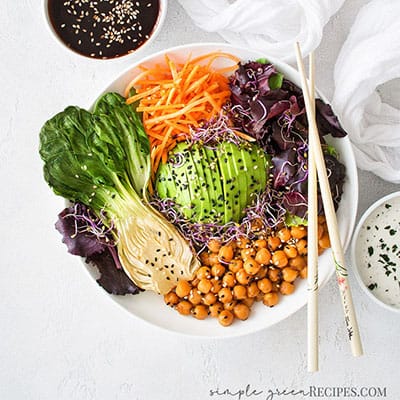 ---
More vegan tomato tarts from favorite blogs:
Rustic Heirloom Tomato Tart from Well Vegan