This Vegan Pumpkin Chocolate Chip Bread is an easy to make pumpkin bread recipe, with fresh pumpkin puree and lots of chocolate chips. It's a quick, tender and deliciously moist recipe that takes just minutes to put together. Perfect for breakfast, snack or dessert. It's vegan, gluten-free and refined sugar-free.
Fall is officially here. Finally! Did I mention it's my favorite season? After the super hot summer, fall is always welcomed here. With fall's arrival and its cool temperatures, the baking season is officially inaugurated in my house. Fall dessert recipes are one of my favorite things about the season.
As it could not be otherwise, a pumpkin bread must be the opening recipe of this 2019 baking season. If you love pumpkin as much as I do, you're gonna love this recipe. It's not super sweet and incredibly moist. And the chocolate chips add an extra touch of sweetness to this healthy pumpkin bread.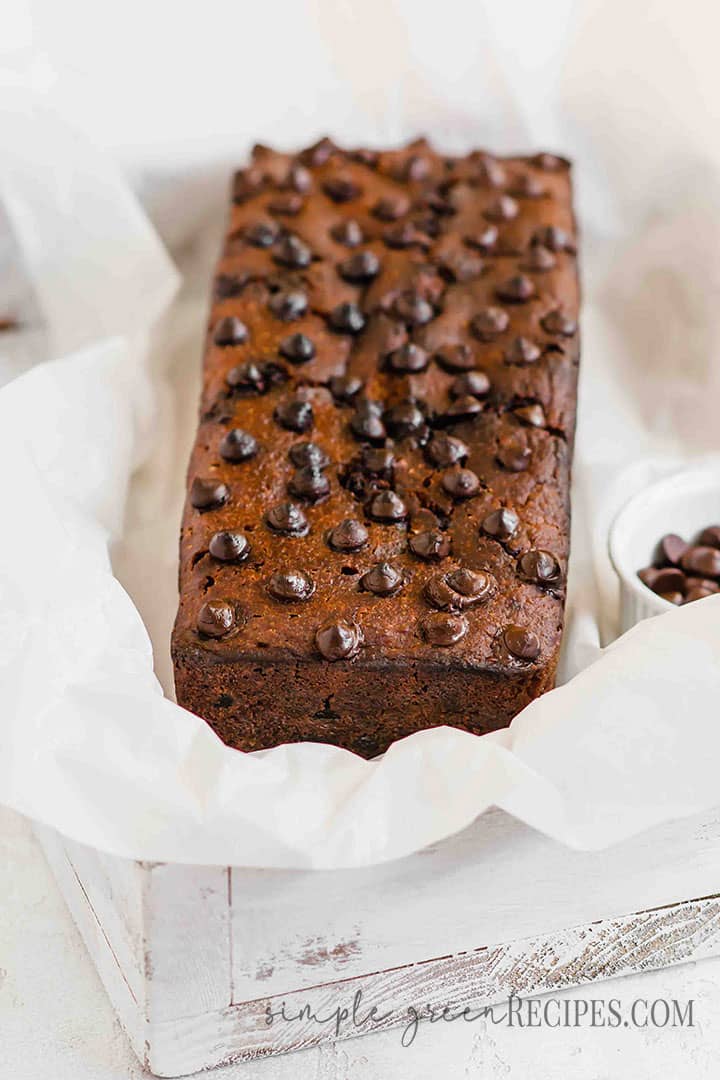 What Is Vegan Pumpkin Bread
Pumpkin bread is a type of moist quick bread made with pumpkin that is really popular in October and November. The pumpkin can be cooked and softened before being used, which I really recommend. I haven't tried to simply bake the pumpkin with the bread, but I don't think you would get the same results. You can also add walnuts and raisins, both are a good addition to this delicious bread.
Pumpkin bread is usually baked in a rectangular loaf pan, and it's usually cooked when the weather starts to turn cooler that is precisely when fresh pumpkins are in season. It can also be made from canned pumpkin. Personally, I prefer to use fresh, it makes a world of difference!
Vegan Pumpkin bread is the vegan version of this classic fall treat. Which basically means that no eggs or dairy products are included in this recipe.
How To Make Vegan Pumpkin Chocolate Chip Bread
I absolutely love how easy this Vegan Pumpkin Chocolate Bread is to make. The batter comes together in under 10 minutes. It is a basic recipe of flour, leavening, spices, sugar, flax seed eggs, maple syrup, almond milk, coconut oil, pumpkin puree and chocolate chips. You can use semisweet, milk, or even white chocolate chips. No need to toss your chocolate chips in flour, they won't sink to the bottom of the pan.
Simply combine all the dry ingredients in a mixing bowl, add in the wet ingredients and mix. Stir together, place the batter in a 9" x 5" loaf pan and top with more chocolate chips. Bake in preheated oven for 50-60 minutes or until a skewer inserted into the center comes out clean or just with a few crumbs on it.
Once baked, it's important to let the bread cool completely before removing it from the pan. It's a moist bread but it doesn't break easily if you unmold it with care. I also find that lining the loaf pan saves you time and energy when making pumpkin bread. All you have to do is lift the edges of the paper to remove the bread from the pan.
How To Store Vegan Pumpkin Chocolate Chip Bread
Pumpkin bread is moist. To keep it fresh for as long as possible, it's best to refrigerate it. Cool completely, then store well wrapped in the refrigerator for up to a week.
This pumpkin bread freezes very well. For short-term storage of a few weeks, wrap the bread in plastic wrap and place it into a plastic freezer bag. If freezing it for longer, use a double layer of plastic wrap. Write the content and the date on the bag and place the pumpkin bread into the freezer. You can freeze it for up to three months.
When ready to eat your frozen pumpkin bread, remove it from the freezer and let it thaw in the fridge overnight. Alternatively, you can let it thaw on the countertop for about three hours.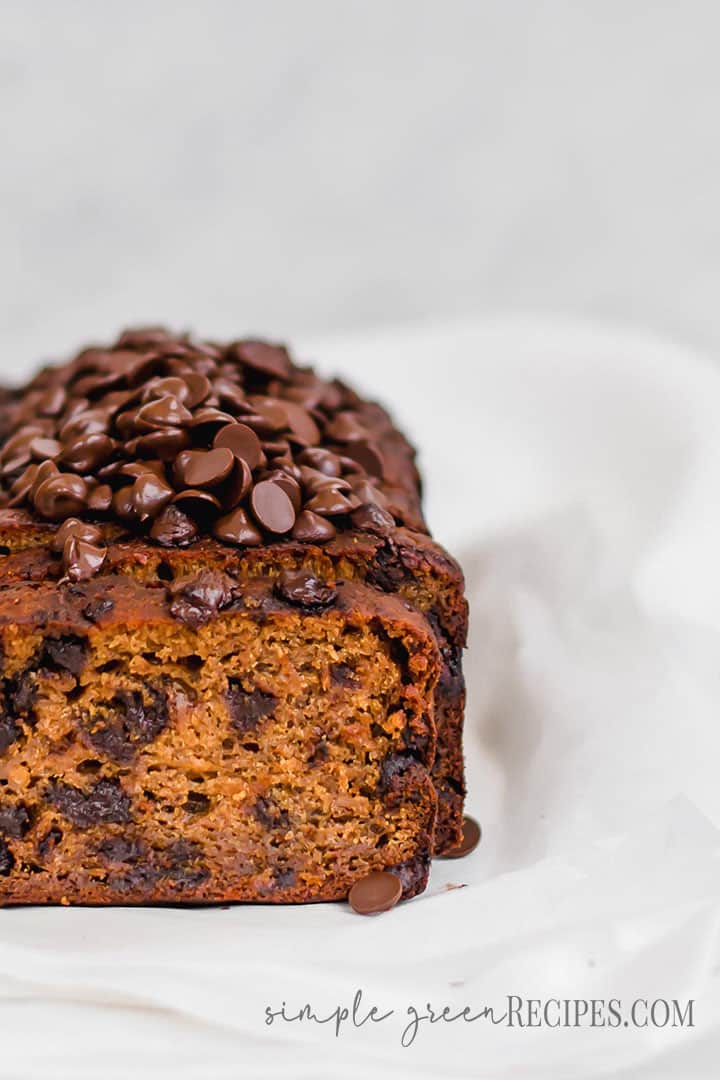 How To Make Homemade Pumpkin Puree
Making pumpkin puree is amazingly easy and simple. Pumpkin can be either baked or boiled but baked pumpkin is much more flavourful. Besides, boiling pumpkin makes it more wet and no so suitable for this recipe.
I normally use butternut squash for puree. It's the most common squash variety here and can easily be found peeled, cut and vacuum-packed, which is frankly pretty convenient. I remove the package and give the butternut squash a rinse. So, the squash is ready to be baked in no time. And, what is best, it's in season all year around here!
Anyway, If I go to the farmer´s market and find fresh pumpkins I always get one. I love their firm, sweet flesh. Also, I find they have a great pumpkin flavor. Once it's at home, I give it a good rinse and cut in half, remove the seeds with a spoon and cut out the stem. Then I peel the pumpkin with a vegetable peeler and cut it into cubes. Place them onto a baking sheet and roast for 20-30minutes, depending on the cubes' size.
When the pumpkin is ready, I let it cool. Roasted pumpkin is already soft so you can mash it with a potato masher. I prefer to use a food processor or a blender to purée the flesh.
How To Store Homemade Pumpkin Puree
You can make pumpkin puree in advance and keep it in the fridge. That way the puree is ready, so putting together the ingredients for this pumpkin bread will be a matter of minutes.
The puree will keep for a week in the refrigerator, stored in glass or plastic container. To freeze the puree place it in an airtight freezer safe container and it will last for 3 months in the freezer.
Vegan Pumpkin Chocolate Chip Bread
This Vegan Pumpkin Chocolate Chip Bread is an easy recipe, with homemade fresh pumpkin puree and lots of chocolate chips. It's a quick, tender and deliciously moist bread that takes just minutes to put together. Perfect for breakfast, snack or dessert.
Ingredients
Dry Ingredients:
1 1/2 cup GF all-purpose flour
1/2 cup coconut sugar
1 teaspoon baking powder
1/2 teaspoon baking soda
1/4 teaspoon salt
1 teaspoon cinnamon
1/2 teaspoon ginger
1/4 teaspoon ground cloves
1/8 teaspoon ground nutmeg
1 cup chocolate chips, plus more for topping
Wet Ingredients:
2 flax eggs (2 tablespoons flax meal + 6 tablespoons warm water)
1 cup pumpkin puree
1/4 cup coconut oil, melted
1/4 cup maple syrup
1/2 cup almond milk
1 teaspoon apple cider (or lemon juice)
Instructions
Preheat the oven to 350ºF / 175 ºC. In a small bowl combine the flaxseed meal and water. Mix together and leave for 5 minutes, until it thickens and you get this jelly-like texture. Line and grease a 9" x 5" loaf pan. 
In a medium bowl, whisk together the flour, coconut sugar, baking powder, baking soda and the spices. 
In a mixing bowl, combine the flax eggs, pumpkin puree, coconut oil, maple syrup,  almond milk and apple cider. 
Gradually add the flour mixture and mix well, until there are no pumpkin or flour in the mixture. Fold in the chocolate chips and pour into the loaf pan. Top with more chocolate chips.
Bake for 50-60 minutes or until a skewer inserted into the center comes out clean or just with a few crumbs on it. Remember that every oven is different. After the first 50 minutes in the oven, check the bread every 5 minutes until done. Enjoy!
If you liked this recipe don't forget to Pin and share with your friends!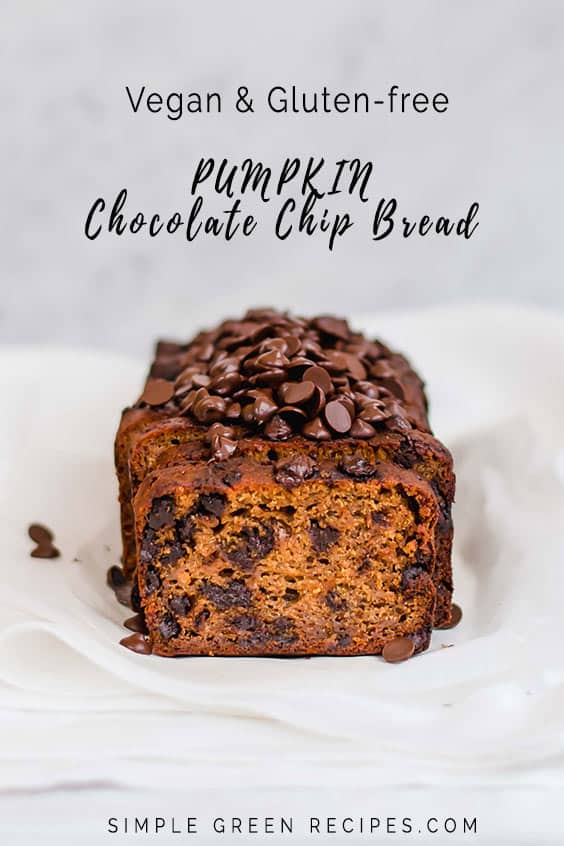 ---
Did you make this recipe? Tag

@simplegreenrecipes

on Instagram
---
Looking for more vegan desserts from Simple Green Recipes?
Vegan Gluten-free Caramel Banana Bread
Vegan Gluten-Free Fudge Plum Brownies
---
More dessert ideas from favorite blogs:
Vegan Pumpkin Cake Bars from Nora Cooks