Last year's summer was filled with the best chia puddings for breakfasts, sweet and savory toasts for lunch – because who wants to cook when its more than 30ºC outside – and delicious decadent cakes like this Raw Vegan Dark Cherry Tart I'm sharing with you in this post.
I'm not a big fun of ice cream but I must admit that vegan ice cream, or nicecream if you prefer, takes this desert to another whole level. This was my second homemade vegan ice cream but it has just turned out to be my favorite so far.
It is not too sweet, creamy and rich but not heavy. And the best part is that it is also super healthy. One of those desserts you can really call guilt-free.
Oh I haven't told you yet that it is also gluten free. So yes, it has it all: vegan, gluten free, dairy free, sugar free… You name it!
I made it for a friends gathering I offered to host at our place. Although none of them were vegan or had any allergies, I was determined to get them taste a super healthy ice cream.
And oh my god, it is to die for. It seriously tastes delicious and, if I were you, I would consider to make it for your non vegan friends too.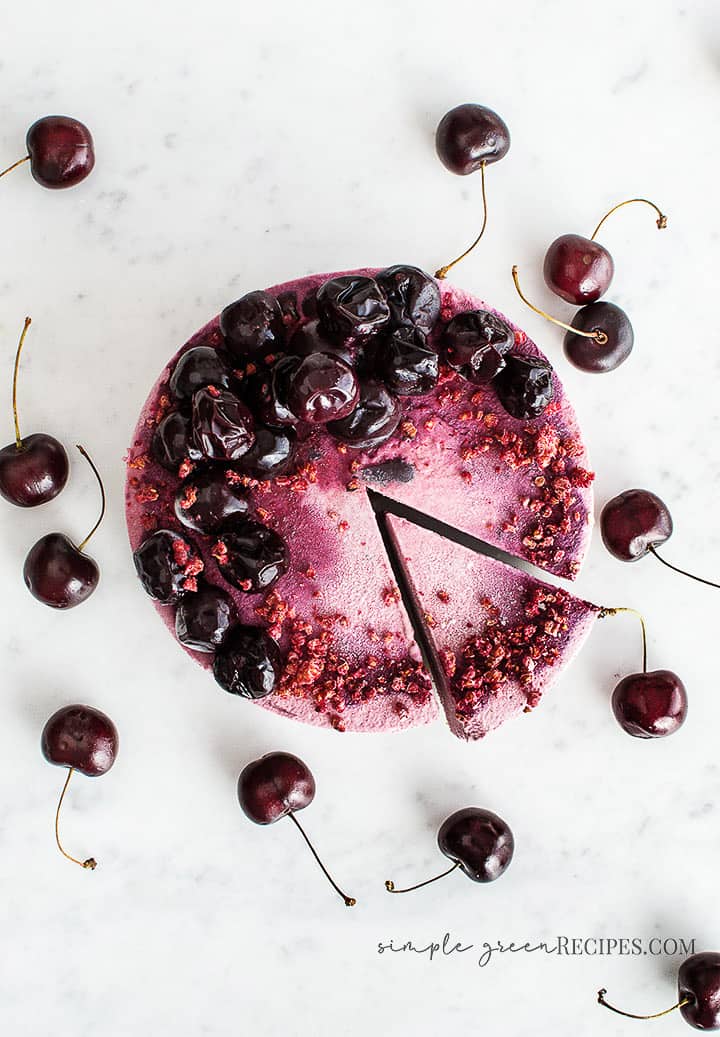 The walnut crust is the one I normally use for my raw tartlets. It only has 4 ingredients and it is made in just five minutes. Just combine the walnuts, dates and vegan butter in a food processor and pulse until you get the desired texture. As easy as that!
RECIPE
Raw Vegan Dark Cherry Tart
Delicious Raw Vegan Gluten-free Cherry Tart made with raw crust and creamy coconut cherry filling.
Ingredients
For the crust
1 ½

cups

shelled walnuts

1 ½

cups

pitted dates

1

cup

+ ½ tbsp vegan butter
For the ice cream
2

cups

raw cashews soaked overnight

1

can full fat coconut milk

3

tbsp

cane sugar

3

tbsp

coconut oil or olive oil

1

jar organic cherry jam
Instructions
The day or night before, place your ice cream maker bowl in the freezer to properly chill. 

Place cashews in a medium bowl and cover with water and let them soak for at least 3-4 hours. Put in the refrigerator if soaking overnight.

Line a 8-inch springform pan with a round parchment paper on the bottom.

To make the crust, combine the walnuts, dates and vegan butter in a food processor and pulse until you get the desired texture. 

Transfer mixture to the parchment-lined pan and spread evenly to distribute. Then press down firmly until it is evenly distributed and well packed. 

Chill in the freezer for half an hour.

Once cashews are soaked and drained, add to a high speed blender with coconut milk, cane sugar, coconut oil (or olive oil) and cherry jam. Blend on high speed until very creamy and smooth, scraping down sides as needed.

Pour the mixture into an ice cream maker and churn for 30 minutes.  

Remove the crust from the freezer, add the ice cream on top of it and spread it out in one smooth layer.

Place back in the freezer for 2 to 3 hours. 

I served mine topped with dark cherry compote.
Looking for more vegan cakes from Simple Green Recipes?
Vegan Flourless Chocolate Cake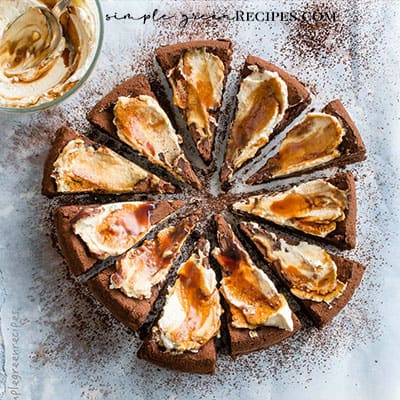 More vegan ideas from favorite blogs:
Blackberry Pound Cake from Pies and Tacos