This Healthy Chocolate Banana Ice Cream is creamy, chocolatey and so rich that you wouldn't say it's vegan. And the best part is that it tastes like real dessert. It's dairy-free, vegan and sugar-free, and made with just 4 healthy ingredients. A great alternative to traditional ice cream. You'll be amazed at how simple and quick it is!
It can be your next favorite breakfast, or a quick dessert that you can put together in less than 10 minutes. Just make sure you always have a good stock of frozen bananas, so improvising a yummy snack or a cold dessert will be a child's play. Get your blender and let's do this!
How to make this vegan chocolate banana ice cream
I guess you already know what a vegan banana ice cream is. It's as simple as it sounds. It's basically about blending frozen bananas and cocoa powder in a food processor or blender until smooth and creamy. I always aim to have at least a box of chunked frozen bananas in my freezer, so when the desire for a cooling breakfast or snack hits me, I can quickly whip something up.
Then I add a tablespoon or two of my favorite nut butter for extra creaminess and I almost got it. Unsweetened chocolate tends to be bitter, adding dates helps to balance that and adds consistency and fiber to your ice cream.
To finish, I always add something extra on top. To be exact, I loaded it with my favorite fruit and nuts, mainly when I have it for breakfast. Oh, and some chocolate chunks, of course, otherwise it wouldn't be me, I never have enough of chocolate!
A few tips for the perfect chocolate banana ice cream every time
Freeze the bananas. Start with ripe bananas, that's when they are at their sweetest and are more flavourful. Peel and slice each banana into 1 to 2-inch chunks. Arrange them in a single layer on a baking tray lined with baking parchment or waxed paper, and place in the freezer. Once frozen, transfer to freezer-safe bags.
Use a food processor or blender. Put the bananas, cocoa powder, almond or peanut butter, and some dates in your food processor or blender. Pulse until smooth, scraping down de sides as necessary. If you're looking for a soft ice cream consistency, then serve immediately. For a firm chocolate banana ice cream, freeze it until it's a little more solid, about 1 hour.
Try different flavour combinations. What flavours the ice cream here is the cocoa powder, so skip it and play with other flavours. For vanilla, add vanilla extract. If looking for a coffee ice cream, swap the cocoa powder for espresso powder. For matcha, add matcha powder. When making a mint ice cream, add peppermint extract. Start with 1 teaspoon and increase it if you'd like a stronger flavor.
Have fun with the mix-ins. Those can be added at the end of churning. Some of my favorites are: candied nuts like pecans, peanuts or hazelnuts; vegan Oreos; banana chips; berries (whole or chopped); vegan brownie; cookie dough and crushed M&Ms.
Healthy 4-Ingredient Chocolate Banana Ice Cream
This Healthy Chocolate Banana Ice Cream is creamy, chocolatey and super simple and quick to make. It's dairy-free, vegan and sugar-free, and made with just 4 healthy ingredients. A great alternative to traditional ice cream.
Ingredients
For the Chocolate Banana Ice Cream:
2 bananas, peeled and frozen
1 tablespoon almond butter
¼ cup pitted dates
1 tablespoon cocoa powder (or more if you like a darker and more chocolatey ice cream)
For the Toppings
½ cup cherries, pitted and halved
½ sliced banana
1 teaspoon chocolate chunks
1 teaspoon crushed hazelnuts
½ teaspoon puffed quinoa
Instructions
For a firm chocolate banana ice cream, place your ice cream maker bowl in the freezer, the day or night before, to properly chill. If you don't have an ice cream maker, just skip this step. Bellow, I show you how to make ice cream without a machine.
Place the frozen bananas, almond butter, dates and cocoa powder into your food processor. Pulse until creamy and smooth, scraping down sides as needed. This may take a while depending on the power of your processor.
If you're after soft serve, consume immediately.
For a firmer ice cream, USING AN ICE CREAM MAKER, pour the mixture into the bowl of the ice cream maker and churn for 30 minutes. Then freeze for 1 hour so that it is hard enough to scoop it.
For a firmer ice cream, WITHOUT A MACHINE, transfer the ice cream to a container and freeze it for 30 minutes, then give it a stir. By breaking up the ice cream, you'll help make it smooth and creamy. Freeze and stir again every 30 minutes twice more.
Store the ice cream in a covered freezer container until ready to serve.

To serve the Ice Cream
Scoop or spoon the ice cream into a bowl, top with you favorite berries, nuts or any other toppings you love, and enjoy!
Looking for more vegan ice creams from Simple Green Recipes?
Vegan Raspberry Coconut Ice Cream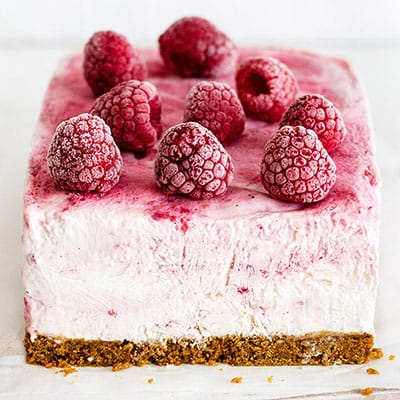 Vegan Chocolate Ice Cream Sandwiches
More ice cream recipes from favorite blogs:
Vanilla Coconut Ice Cream from Minimalist Baker