I've been baking mostly desserts for more than 15 years now. I can say that after some failed attempts, soon there wasn't a baked good that resisted me. The challenge came when I started baking vegan and gluten-free four years ago.
These Vegan Funfetti Cupcakes have been in my repertoire from the beginning and are among my favorite easy treats. Moist, fluffy and super tender muffins topped with classic vanilla buttercream frosting.
The best thing about these cupcakes is their vanilla flavor. It's so mild that you will be able to pair it with any frosting of your choice. I opted for the perfect match though, funfetti cupcakes with vanilla frosting. You have to try them! Won't be disappointed!
Ingredients
Flour. Plain all-purpose flour is what I usually use here. To make it gluten-free, substitute all-purpose flour with all-purpose gluten-free flour at a ratio of 1:1.
Cane sugar. Cane sugar is much less processed and it's more flavorful. It turns your muffins darker, which is something I don't care about. But if you're looking for the perfect pale vanilla muffin, I recommend you swap the cane sugar for white sugar and remove two tablespoons from the cup since white sugar is sweeter.
Baking soda. It helps rise the muffins.
Baking powder. Check the expiration date of your baking powder before you start the recipe. If it's not fresh enough, your muffins won't rice as much.
Plant-based milk. There is almost one dairy-free milk for everyone. I use almond, oat and soy milk for baking. Notes on vegan buttermilk in the recipe card bellow.
Lemon juice. The recipe calls for fresh lemon juice.
Vegetable oil. Mild tasting oil like canola oil, mild olive oil or sunflower oil are a good fit here.
Vanilla extract. Pure vanilla extract has the best flavor but any vanilla extract you may have will do the trick too.
Sprinkles. Use good quality sprinkles or they will bleed as soon as you add it to the batter and melt while baking.
Vegan butter. Shortening and margarine are my favorites to make vegan buttercream.
Powdered sugar. I use regular powdered sugar. Some brands have vegan powdered sugar if you may be interested.
How to Make Vegan Funfetti Cupcakes
Line a cupcakes tray with cupcake liners to prevent the batter from sticking to the sides.
Prepare your buttermilk. Combine the milk with the lemon juice in a mixing bowl. Stir the mixture and let stand for 5 minutes.
Add the wet ingredients to the buttermilk: pour the oil and the vanilla into the buttermilk bowl and mix well.
Add the dry ingredients to the buttermilk mixture. Sift in the flour, baking soda, baking powder and sugar. Whisk until well combined. Don't over mix. Add the sprinkles.
Fill the cupcake liners. Divide the mixture among the cupcake liners. Fill them ¾ full.
Bake for 20-22 minutes. Cool the tray on a wire rack for 15 minutes. Then remove muffins from the tray and let them cool completely.
Make the vanilla frosting by mixing the butter with the milk and the powdered sugar.
Finally, frost your cupcakes and top with sprinkles.
Tips for the Perfect Cupcake
SCALLING. You can easily halve the recipe so that you get 6 cupcakes instead of 12. If that's what you need, just divide the ingredients in half.
If you need to make a double batch, double the ingredients. Check for doneness after 20 minutes in the oven, bake for 5 more minutes if the muffins are not fully baked.
VARIATIONS. These delicious vanilla funfetti muffins can also be topped with your favorite frostings. Fruit flavored frostings like strawberry buttercream work great here.
STORAGE. Let them cool completely, line an airtight container with a paper towel and place the cupcakes on top of it. Cover and refrigerate. They will last fresh for 3-4 days.
IMPROVED RECIPE. I've tweaked this recipe several times until I was happy with it. Always looking for the best flavor and texture. If you're curious about the changes I made:
I swapped the vinegar for lemon juice, it works better for me than vinegar as raising agent in this recipe.
I adjusted the amount of the main leaving agents, baking soda and baking powder, to get airier muffins.
I also reduced the amount of sugar to make the cupcakes as suitable for frosting as for eating them plain.
Vegan Funfetti Cupcakes
Yield: 12

Prep Time: 25 minutes

Cook Time: 25 minutes

Total Time: 50 minutes

These Vegan Funfetti Cupcakes are moist, fluffy and super tender muffins topped with classic vanilla buttercream frosting.
Ingredients
For the Vegan Funfetti Cupcakes
2 + ½ cups all-purpose flour (or gluten-free flour blend)
1 cup cane sugar
1 teaspoon baking soda
3 teaspoons baking powder
1 + ¼ cups plant-based milk (almond, oat, soy or rice)
1 tablespoon lemon juice
⅔ cup vegetable oil (canola oil, olive oil, sunflower oil)
2 teaspoons vanilla extract
⅓ cup sprinkles
For the Vegan Vanilla Frosting
1 cup vegan butter
5 cups powdered sugar
1 tablespoon plant-based milk
Instructions
For the Vegan Funfetti Cupcakes
Preheat the oven to 350ºF / 180ºC and line a cupcake tray with 12 cupcake liners. Lightly spray inside the liners so that the muffins don't stick.
In a large bowl or the bowl of your stand mixer, mix the vegan milk with the lemon juice to make vegan buttermilk. Gently stir and let sit for a few minutes. The milk curdles and reaches a buttermilk-like texture and taste.
Then, add the oil and the vanilla extract. Whisk until combined.
Sift the flour, baking soda, baking powder and sugar, and add them to the wet ingredients. Beat gently for 1-2 minutes until well mixed. You can either stir the mixture with a whisk, large spoon or a hand mixer. Add the sprinkles and gently fold with a spatula.
Fill the cupcake liners with batter ¾ full.
Bake for 20-23 minutes or until a toothpick inserted into the muffin comes out clean. Do not over bake or the muffin will be dry.
Remove cupcake tray from the oven and let cool down a bit. Carefully, they are very tender now, remove muffins from the try and place on a wire rack to cool.
For the Vegan Vanilla Frosting
While the muffins are baking, prepare the frosting. In a mixing bowl, add the room temperature butter. Beat the butter until soft and creamy.
Then, add half the powdered sugar, sifted, and mix until well combined.
Add the vanilla and 1 tablespoon of milk, and beat until well mixed.
Now, add the rest of the powdered sugar and mix until light and fluffy.
Use it immediately or refrigerate before frosting your cupcakes.
When your cupcakes are cooled, place a 2D tip in a piping bag and fill the bag about ¾ with the vanilla frosting. Frost your cupcakes and top with sprinkles.
Enjoy!
Notes
VEGAN BUTTERMILK. I've made vegan buttermilk with soy milk and almond milk. Soy milk is my favorite to make buttermilk, but both work nicely. Not all the non-diary milks will curdle when adding apple cider vinegar or lemon juice. 

VEGAN VANILLA FROSTING. Getting the right consistency is key. The 1 cup butter/ 5 cups sugar ratio is what works for me. Classic Buttercream frosting gets its volume and stability from powdered sugar. Anyway, if you find it too thick, you can always add more milk, or more powdered sugar if it's thin for your taste.

DON'T OVER MIX BATTER. Over mixing the batter results into tougher muffins, specially if you are using normal all-purpose flour. Though it may happen with some gluten-free flour blends too. 

NUTRITION. This information is provided as a courtesy and is an estimate only.
Nutrition Information
Yield 12 Serving Size 1 cup
Amount Per Serving Calories 556Total Fat 29gSaturated Fat 11gTrans Fat 1gUnsaturated Fat 17gCholesterol 41mgSodium 353mgCarbohydrates 75gFiber 0gSugar 64gProtein 1g
---
YOU MIGHT ALSO LIKE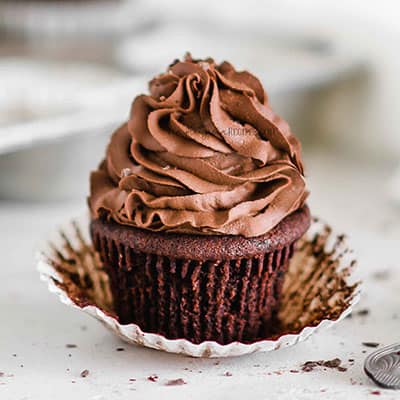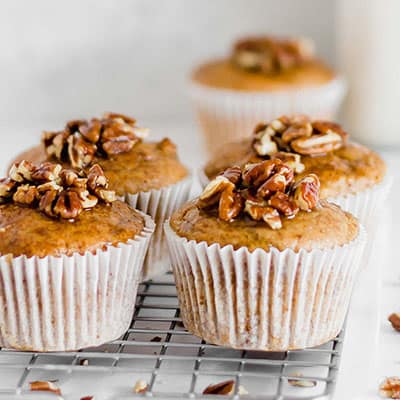 ---
If you liked this recipe don't forget to Pin and share with your friends!
Did you make this recipe? Tag

@simplegreenrecipes

on Instagram
---
More vegan treats from favorite blogs:
Vegan Mango Cupcakes by Vegan Richa