This EASY Vegan Chocolate Cake is the best vegan chocolate cake I've ever had! It's fluffy, moist, not overly sweet and topped with a not less delicious vegan chocolate ganache that you're are instantly going to love.
Vegan Chocolate Cake
If you're looking for a basic vegan chocolate cake recipe, you've come to the right place. I'm going to show you how to make a dairy-free and egg-free chocolate cake that nobody will guess it's vegan. So, roll up your sleeves and get ready to bake a tasty and vegan comfort chocolate cake with just a few basic ingredients!
What is Vegan Chocolate Cake
Or better said, can chocolate cake be vegan? Oh yes, without a doubt! In fact, any cake can be vegan as long as it doesn't have animal products like dairy milk, butter or eggs in it.
Nowadays, substituting animal products, without compromising taste and texture, can't be easier.
That easy vegan chocolate cake is the healthier version of the widely favorite chocolate cake. Fluffy, chocolatey and great to make a layer cake for any special occasion. Truly, a good recipe to have on hand whenever you want to make a basic chocolate cake.
Tips for making the Best Vegan Chocolate Cake
Grease the pan. Though it seems quite obvious, it's something we don't always remember to do. You can use plant based oil, butter or organic non stick cooking spray. You don't need to flour the pan, specially if you're planning to make a naked cake. Also, lining the bottom of the pan with a circle of parchment makes removing the cake a breeze.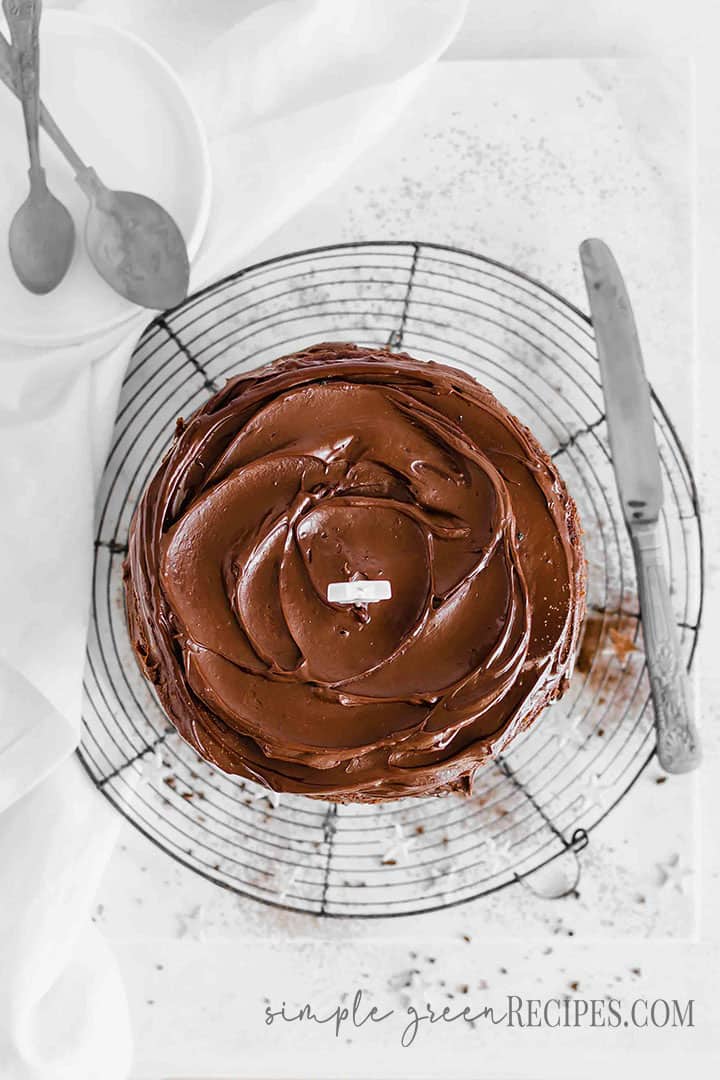 Measure ingredients. Sometimes the difference between a cake success and a cake failure lies in not measuring properly. Baking is science and it relies on the chemical reactions between the right amount of each ingredients.
Don't over mix. I know this is a classic tip but, trust me, wether you're mixing by hand or using an electric mixer, make sure to just mix until the ingredients are combined. Over-mixing develops the gluten of the flour, which results in tougher cakes.
Don't open the oven. I know it's tempting to open the door of the oven to see how your cakes are doing. When you do that, the temperature of the oven goes down suddenly and it may cause the sinking of the cake. A good rule of thumb is to not open the door during the first 20 minutes of cooking time.
How to Make Vegan Chocolate Ganache
Vegan chocolate ganache is one of the easiest, quickest and most delicious frosting.
First, measure the ingredients separately, the soy cream and the chocolate. Place the soy cream in a sauce pan and heat just until it's about to boil.

Meanwhile, chop the chocolate as fine as you possible. The finer the chocolate, the quicker it will melt and you'll also get a smoother ganache.

Pour the hot soy cream over the chopped chocolate and let it sit between two to five minutes. The heat of the cream will melt the chocolate. Add the vanilla.

The last step is to stir well the cream/chocolate mixture. It will turn into a velvety ganache that will make almost impossible not to dive your spoon in it.

At that point the chocolate ganache is very pourable. Let it cool and it will thicken. Use it when it reaches the right consistency for you.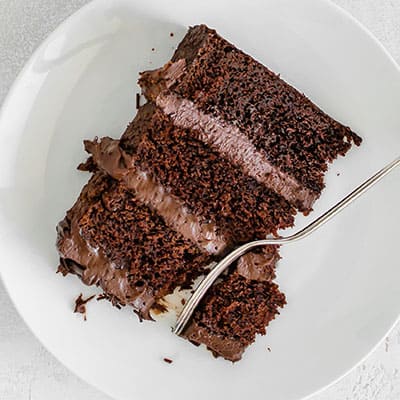 Easy Vegan Chocolate Cake
Yield:
a 2-layer 7-inch cake
This EASY Vegan Chocolate Cake is the best vegan chocolate cake I've ever had! It's fluffy, moist, not overly sweet and topped with a not less delicious vegan chocolate ganache that you're are instantly going to love. 
Ingredients
For the Vegan Chocolate Cake (2 layer 7-inch cake)
2 heaping cups all-purpose flour
⅓ cup unsweetened cocoa powder
1 cup cane sugar
1 teaspoon baking soda
3 teaspoons baking powder
1 + ¼ cups plant-based milk (almond, oat, soy, rice…)
1 tablespoon apple cider vinegar
⅔ cup canola oil
2 teaspoons vanilla extract
For the Vegan Chocolate Ganache (for a 2 layer 7-inch cake)
14 ounces semi-sweet chocolate, finely chopped
1 + ¼ cups soy cream
1 teaspoon vanilla extract
Instructions
For the Vegan Chocolate Cake
Preheat the oven to 350ºF / 180ºC and grease two 7-inch round cake pans. Alternatively, you can lightly spray them with cooking spray and also line the pans with a piece of round parchment on the bottom.
Next, prepare the buttermilk. In a medium bowl, mix the vegan milk with the vinegar. Stir slightly and set for a few minutes until it curdles.
In large bowl, or the bowl of an stand mixer, sift the flour, cocoa powder, cane sugar, baking soda and baking powder.
Then, add the milk and vinegar mixture, canola oil and vanilla extract. Whisk until well combined, you'll get a creamy and pourable batter. Be careful not to over mix.
Divide the batter evenly between the two prepared pans. Bake for 25 minutes or until a wooden toothpick inserted in the middle comes out clean.
Remove cakes from the oven and let them cool for 10 minutes before unmolding. Then, transfer to a cooling rack and allow to cool completely.
Meanwhile, prepare the chocolate ganache (recipe bellow).
Once the cake is cooled, frost the top of the bottom layer with half the chocolate ganache, using an icing spatula. Top with the second layer and spread the rest of the ganache over the top of the cake.
Keep the cake in the fridge until ready to serve.
For the Vegan Chocolate Ganache
First, chop the chocolate and place into a heat safe bowl.
In a medium saucepan, heat the soy cream over medium heat until it reaches a simmer. Don't let it boil.
Pour over the chocolate and let it sit for 5 minutes to allow the chocolate to almost completely melt. Add the vanilla and stir to combine until you get a smooth and shiny mixture. Set aside to cool.
If you liked this recipe don't forget to Pin and share with your friends!
Did you make this recipe? Tag @simplegreenrecipes on Instagram
---
More vegan chocolate treats from Simple Green Recipes?
Vegan Flourless Chocolate Cake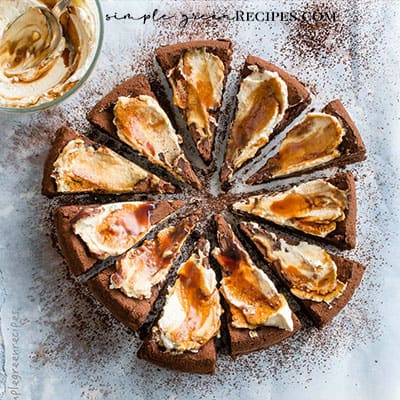 Vegan Pumpkin Chocolate Chip Bread
---
More vegan ideas from favorite blogs:
Vegan Vanilla Cake from Loving It Vegan