This basic chia seed pudding recipe has become an staple for me whenever I feel like having a light and super filling breakfast or quick snack or desert. Oh and for those who may be wondering…yes, it's vegan and gluten free.
A basic chia pudding recipe is as simple as mixing chia seeds and coconut milk, letting it sit until it builds the gel-like consistency that gives pudding that amazing thick texture. In spite of its tiny seeds, there is not a better way to start the day specially if you serve it with some spoonfuls of homemade berry compote, fresh fruit and, why not, a crunchy and cinnamon flavored cookie.
I choose berry compote because I just adore berries but fell free to switch the toppings for this chia pudding. Pineapple, banana, mango, kiwi, coconut flakes, nuts or chocolate chunks are just a few of the endless options I can think of if you feel like being creative with your chia pudding.
As I mentioned your before, the texture is like a thick creamy pudding. And chia seeds have no flavor so the pudding will taste like whatever liquid you're using. I love using plant-based milks like almond, oat and coconut milk. I do not normally use any sweetener but adding spices like cinnamon or a dollop of agave or maple syrup will turn your chia pudding into your favorite breakfast ever.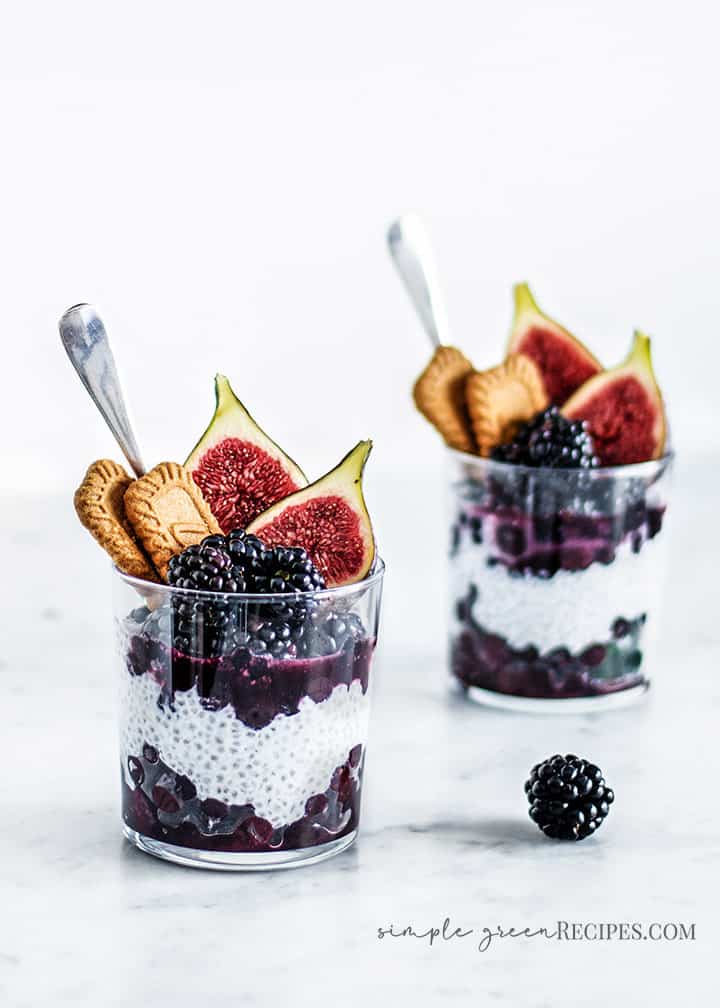 How to make Chia Pudding
You simply stir everything together and refrigerate until thick. The chia seeds soak up the liquid pretty quickly, but to get the gel-like consistency, you need to give the pudding some time. I usually add the milk, let it sit for 5-10 minutes and stir to make sure the chia seeds aren't clumping and then let it sit for an hour.
Another great option is to make it and let it sit in the fridge overnight. The pudding will keep 4-5 days refrigerated, so feel free to make a larger batch and portion into individual jars ahead of time. This way, you can eat your chia pudding on the go.
How to make easy Berry Compote
To prepare your berry compote, place your berries in a saucepan on medium heat. To make naturally sweetened compote you can add some maple syrup or honey. Since it's liquid, you can always add more after cooking if your compote isn't sweet enough.
Stir occasionally until the berries have broken down into a jam like texture. This will take about 5 minutes for fresh fruit. If you are using frozen berries, this may take a few more minutes.
Reduce the heat to low and mash it with a fork. Continue simmering and stir often for 5 minutes. Remove it from the heat and let cool completely before serving.
RECIPE
Blueberry Coconut Creamy Chia Pudding
This thick vegan coconut chia pudding is made with coconut milk, blueberry compote and topped with blackberries, figs and crunchy cookies.
Ingredients
½

cup

chia seeds

2

cups

coconut milk

4

tablespoons

blueberry compote

2

halved figs

½

cup

blackberries

4

cookies of your choice
Instructions
In a bowl, mix together chia seeds and milk, and stir to combine.

Let it sit for 5 minutes, stir again and put in the fridge for 1 hour (preferably overnight).

When ready to serve, top with blueberry compote, the halved figs, some blackberries and a couple of crunchy cookies.
Looking for more easy breakfast ideas from Simple Green Recipes?
Granola Coconut Creamy Chia Pudding
More chia recipes from favorite blogs:
Berry Chia Jam by Cookie and Kate