This EASY Homemade Applesauce recipe is the one you need if you're thinking of making your own Applesauce. A 2-step applesauce recipe that just requires 3 ingredients!

Homemade Applesauce Recipe
Have you ever find yourself starting a recipe and lacking one of the key ingredients? Oh, I have! I was going to bake a vegan cake and just realized I had run out of applesauce when I was about to start the recipe.
Luckily, I always have a few apples in my pantry – have an obsession for vegan apple tarts 😉 – so I made some applesauce in less than 20 minutes. And, you know what, I have never gone back to the store-bought one. To tell the truth, I wasn't a fan of it.
Applesauce can be eaten alone or mixed into breakfast oats, smoothies or plain yogurt. As you may know, it is a great substitute for eggs in vegan baking specially for cakes, muffins and delicate baking goods.
This recipe is super easy to make and requires just 3 basic ingredients: apples, water and lemon juice. You can also add sugar for a sweeter version, although it's not necessary.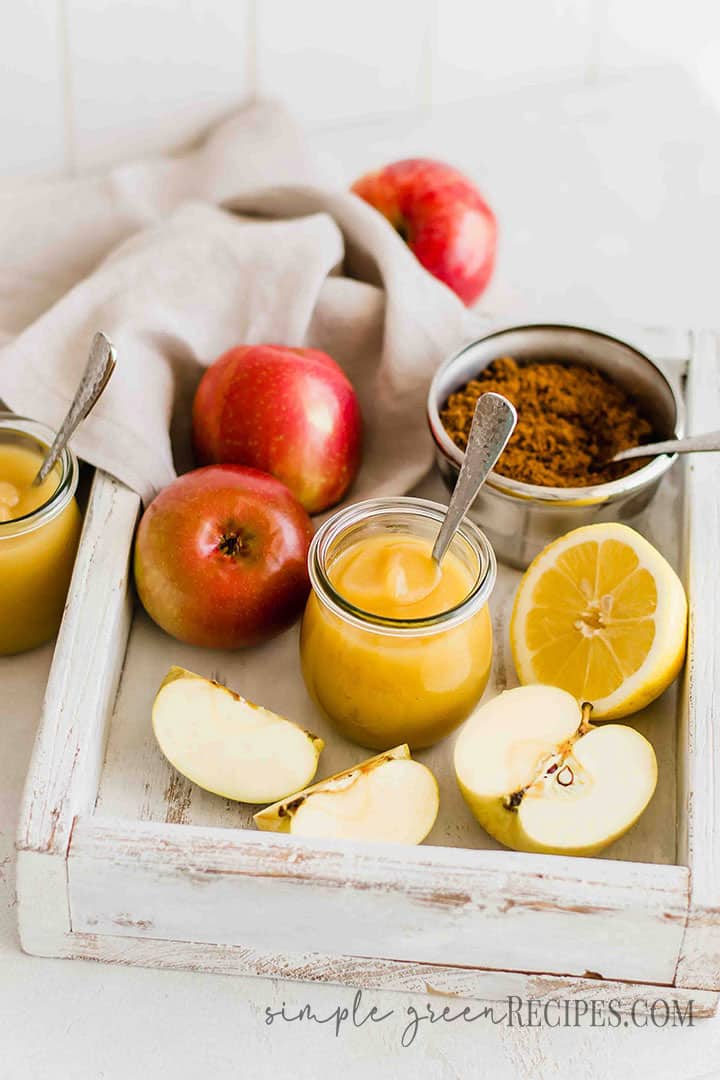 Uses for Homemade Applesauce
as a substitute for eggs in baking goods.

as a topping on your breakfast oats or smoothies.

as a healthy mid afternoon snack

as a delicious yet healthy dessert if served with cinnamon and maple syrup
How to make Homemade Applesauce
Choose the apples. The best apples to use are those that are softer so they will cook quicker. Though, really, any apples will do. I use Golden Delicious or Fuji.
Peel them. I guess this is the part that you find more laborious, but if you have a vegetable peeler, removing the peel of the apples you need for this recipe will be a breeze. It will take you less than five minutes. After peeling, core and chop the apples.
Cook it. Mix all the ingredients in a saucepan and cook for 15 minutes. Cooking them on low heat will be enough as long as the pot is covered. Let cool.
Mash it. For a chunkier consistency, you can use a potato masher. If you like a smoother consistency, then an immersion blender will be a good option.
How to freeze Homemade Applesauce
This recipe makes around two cups. I tend to make a double batch and freeze the applesauce I'm not going to use immediately. Although it's cooked, bear in mind it has no preservatives, so, it won't last for long in the fridge.
To freeze it, just transfer the applesauce to air-tight containers or freezing bags. Or you can freeze it in ice cube trays and store them in freezer safe containers once they are solid.
RECIPE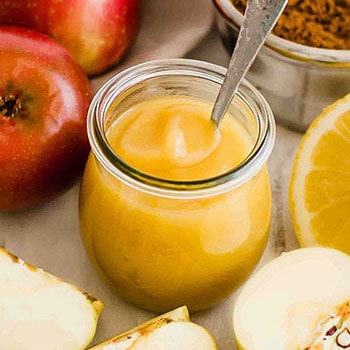 How to Make Homemade Applesauce
This easy Homemade Applesauce is quick to prepare and freezes great. It can be chunky or smooth and takes just 3 ingredients!
Ingredients
6

medium Golden Delicious

Fuji or another apple of your choice

½

cup

water

1

tablespoon

lemon juice

2

tablespoons

brown sugar

optional
Instructions
First, peel, core and chop the apples. The smaller the pieces the faster they will cook. 

Place the apples, water and lemon juice in a medium saucepan and bring to a boil. Cover with a lid and lower the heat. Let them cook until the apples are tender, around 15-20 minutes. 

Once the apples are done, let them cool before mashing. For a chunkier consistency, you can use a potato masher. And for a smoother texture, blend it in your food processor or use an immersion blender.

Let it cool and store in the fridge for a week. You can also freeze leftover applesauce in freezer bags for months.
If you liked this recipe don't forget to Pin and share with your friends!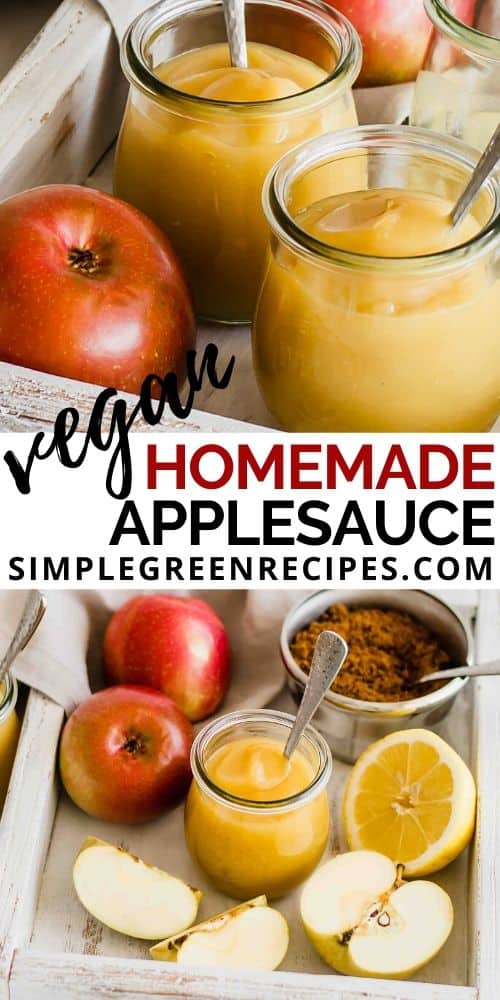 Did you make this recipe? Tag

@simplegreenrecipes

on Instagram
---
More vegan apple treats from Simple Green Recipes?
---
More vegan ideas from favorite blogs:
Apple Butter from Spend with Pennies