Vegan Blueberry Oat Pancakes are deliciously light and fluffy, loaded with blueberries and super moist. Thick and fluffy vegan pancakes that literally melt in your mouth. All in all, they are simple and easy to make from scratch. Whether or not you are vegan, this will be your go-to recipe for pancakes!
I normally check my recipes once more just before sharing them so made these pancakes on Sunday morning. Seriously, you have to give them a shot! They are really filling and satisfying, not too sweet and they always come out so well! This vegan pancake recipe is, by far, my favorite. You will not be able to tell that these Vegan Blueberry Oat Pancakes contain no egg, no milk, no butter and no sugar.
TIPS FOR MAKING THE PERFECT VEGAN PANCAKES
Do not overmix. A few lumps are okay. They won't appear in the finished pancakes. Mixing just until the ingredients are combined, is enough. Over-stirring the batter can make pancakes chewy and gummy instead of light and fluffy.
Rest the batter. Let the batter sit for around 5 minutes. This allows the baking powder to form the tiny bubbles that will help to lift the pancakes. Resting the batter also gives time to baking soda and cider vinegar to react and give the batter a lift as they cook.
Warm the skillet. Be sure to preheat the skillet fully before you pour the pancake batter. Set the burner to medium and allow the skillet to heat up for about 3 minutes. If your skillet is too cold, the batter will soak the oil and you will end up with flat pancakes.
Cook them low and slow. Getting an even cook on your pancakes is key. I have found that generously greasing the preheated skillet, helps both the cooking speed and the texture. Although the trick is basically let the pancakes cook slowly on a low heat, so that they cook all the way through. Cook on the first side until bubbles appear on the surface and the edges begin to look dry.
THESE VEGAN BLUEBERRY PANCAKES ARE:
Dairy-free

Egg-free

Sugar-free

Whole-grain

Vegan & Gluten-free
Vegan Blueberry Oat Pancakes
Yield: 4 pancakes

Prep Time: 5 minutes

Cook Time: 20 minutes

Total Time: 25 minutes

How to make Vegan Blueberry Oat Pancakes that are deliciously light and fluffy, loaded with blueberries and super moist. An easy recipe that's both filling and satisfying.
Ingredients
For the Pancakes:
1+1/4 cup oat flour (or gluten-free flour blend, all purpose flour)
1+1/2 teaspoon baking powder
1/4 teaspoon salt
1/4 baking soda
1 cup oat milk
2 tablespoons maple syrup
2 tablespoons coconut oil, melted, plus extra for cooking
1 teaspoon cider vinegar
1 cup blueberries
For the Toppings:
1/2 cup blackberries
1/4 cup blueberries
1 tablespoon crushed walnuts
1 tablespoon vegan chocolate sauce (or chocolate syrup)
Instructions
Place all the dry ingredients in a large bowl: the oat flour, baking powder, salt and baking soda. Whisk to combine just until the wet and the dry ingredients are mixed. Some small lumps are ok.
In a medium bowl, mix together the oat milk, maple syrup, coconut oil, and cider vinegar.
Pour the wet ingredients into the dry ingredients and gently stir to combine.
Add in the blueberries and mix enough to get a smooth batter. Let the batter rest for 5 minutes, while you preheat a large non-stick skillet.
Heat the skillet to medium heat, and pour 1/2 teaspoon of coconut oil.
When your pan is pre-heated, drop a 1/4 cup of batter on the skillet and let cook until little bubbles start to form, about 5 minutes. You will possibly need to adjust the heat to medium-low to prevent the surface of the pancakes from burning. It's important to cook them low and slow. Most of the cooking should be done on the first side, and once the bottom and the sides are cooked you can flip the pancake. Cook for 3-4 minutes on the other side until golden brown.
Once all done, serve with fresh blueberries, blackberries, crushed walnuts and chocolate sauce. Enjoy!
Looking for more healthy pancakes from Simple Green Recipes?
7-Ingredient Almond Flour Pancakes (Vegan & Gluten-free)
Vegan Gluten-free Oat Banana Pancakes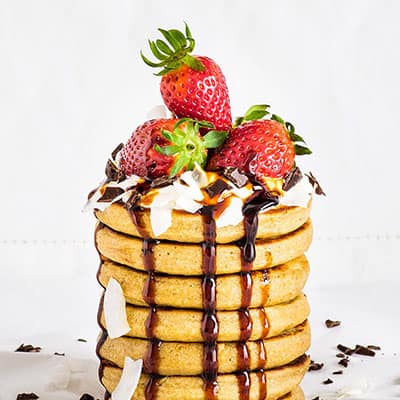 Gluten Free Vegan Poppy Seed Pancakes
More pancake ideas from favorite blogs:
Cinnamon Pancakes from The Spruce Eats