Vegan Blueberry Oat Pancakes are deliciously light and fluffy, loaded with blueberries and super moist. Soft and easy vegan pancakes that literally melt in your mouth!
Vegan Blueberry Oat Pancakes
Who can resist a steaming stack of perfect soft, fluffy pancakes? Certainly, not me. And I bet you neither. Those Vegan Blueberry Oat Pancakes are quick and easy to make from scratch. Whether you are vegan or not, this will be your go-to recipe for pancakes!
I normally check my recipes once more just before sharing them so made these pancakes on Sunday morning. Seriously, you have to give them a shot! They are really filling and satisfying, not too sweet and they always come out so well!
This vegan pancake recipe is, by far, my favorite. You will not be able to tell that these Vegan Blueberry Oat Pancakes contain no egg, no milk, no butter and no sugar.
Tips for making the best vegan blueberry oat pancakes
Do not over-mix. Mixing just until the ingredients are combined and there are no big lumps, is enough. Over-stirring the batter can make pancakes chewy and gummy instead of light and fluffy. You can either mix by hand or use a stand or hand mixer.
Rest the batter. Let the batter sit for around 5 minutes. This allows the baking powder to form the tiny bubbles that will help to lift the pancakes. Resting the batter also gives time to baking soda and cider vinegar to react and give the batter a lift as they cook.
Warm the skillet. Be sure to preheat the skillet fully before you pour the pancake batter. Set the burner to medium and allow the skillet to heat up for about 3 minutes. If your skillet is too cold, the batter will soak the oil and you will end up with flat pancakes.
Cook them low and slow. Getting an even cook on your pancakes is key. I have found that generously greasing the preheated skillet, helps both the cooking speed and the texture. Although the trick is basically let the pancakes cook slowly on a low heat, so that they cook all the way through. Cook on the first side until bubbles appear on the surface and the edges begin to look dry.
These vegan blueberry oat pancakes are:
Dairy-free

Egg-free

Sugar-free

Whole-grain

Vegan & Gluten-free
RECIPE
Vegan Blueberry Oat Pancakes
These Vegan Blueberry Oat Pancakes are deliciously light and fluffy, loaded with blueberries and super moist. An easy recipe that's both filling and satisfying.
Ingredients
For the Pancakes:
1

+¼ cup oat flour

or gluten-free flour blend or all-purpose flour

1

+½ teaspoon baking powder

¼

teaspoon

salt

¼

baking soda

1

cup

oat milk

3

tablespoons

maple syrup

2

tablespoons

coconut oil

melted, plus extra for cooking

1

teaspoon

cider vinegar

1

cup

blueberries
For the Toppings:
½

cup

blackberries

¼

cup

blueberries

1

tablespoon

crushed walnuts

1

tablespoon

vegan chocolate sauce

or chocolate syrup
Instructions
Place all the dry ingredients in a large bowl: the oat flour, baking powder, salt and baking soda. Whisk to combine and make sure you don't have any lumps. 

In a medium bowl, mix together the oat milk, maple syrup, coconut oil, and cider vinegar.

Pour the wet ingredients into the dry ingredients and gently stir to combine. Fold in the blueberries. 

Let the mixture rest for 5 minutes, while you preheat a large non-stick skillet. 

Heat the skillet to medium heat, and pour ½ teaspoon of coconut oil. 

When your pan is pre-heated, drop a ¼ cup of batter on the skillet and let cook until little bubbles start to form, about 5 minutes. You will possibly need to adjust the heat to medium-low to prevent the surface of the pancakes from burning. It's important to cook them low and slow. Most of the cooking should be done on the first side, and once the bottom and the sides are cooked you can flip the pancake. Cook for 3-4 minutes on the other side until golden brown. 

Once all done, serve with fresh blueberries, blackberries, crushed walnuts and chocolate sauce. Enjoy! 
Notes
Whole grain oat flour. It's one of my favorites and the one I use more often for this recipe. It tends to absorb more liquid than the refined flour, which results in a thicker batter. If you make these pancakes with whole grain flour, I recommend you add 1-2 tablespoons more milk to the mixture. Taller pancakes. To make taller pancakes, like the ones in my pictures, use the ½ cup measurement and a ring mold. They are thicker, so let them cook for 6-7 minutes each side.  Mixer or Blender. This is totally up to you. Using a blender may speed the process a bit since you just need one recipient (the blender's jar) and, also, because it takes just a few seconds for the blender to mix the recipe. Add the blueberries once you have prepared the batter. Just fold them in.
If you liked this recipe don't forget to Pin and share with your friends!
Did you make this recipe? Tag

@simplegreenrecipes

on Instagram
---
More healthy pancakes from Simple Green Recipes?
7-Ingredient Almond Flour Pancakes (Vegan & Gluten-free)
Vegan Gluten-free Oat Banana Pancakes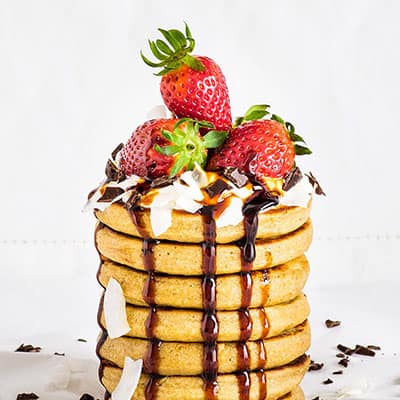 Gluten Free Vegan Poppy Seed Pancakes