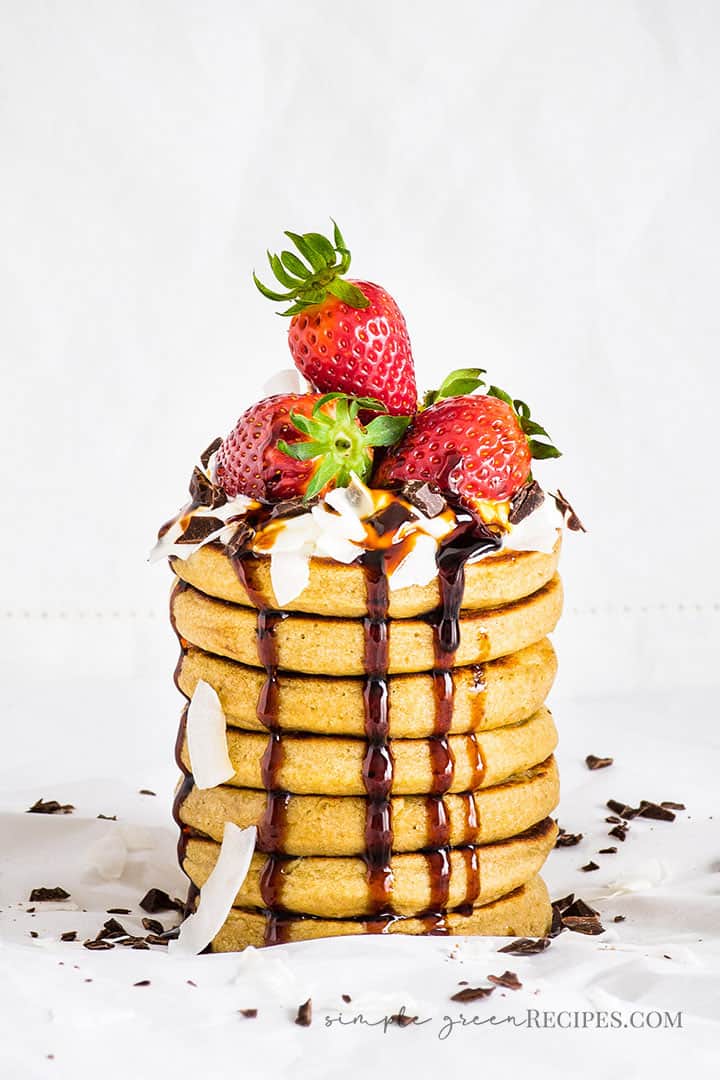 Good morning and happy Wednesday! Natalia here with my second favorite vegan gluten-free oat banana pancakes recipe. I made a few tweaks to my go-to pancake recipe and loved the result, so ready to share another pancake recipe with you.
If you are anything like me, you are going to love this one too! Pancakes are among my favorite breakfast. It's the one thing I could carb-o-load on all day, every day. And of course I top them with loads of maple syrup. Always. Don't you? You are missing out.
How to make chia eggs
For cooking recipes that require an egg you have several options, and one of my favorites is making an egg substitute out of chia seeds. Chia seeds work in the exact same way as flax seeds do to replace eggs in vegan baking. For one egg equivalent, all you need is 1 tablespoon of Chia Seeds and 3 tablespoons of water or other liquid.
The liquid should be room temperature or warm to speed the process. Simply mix together and leave for 5-10 minutes, until it thickens and resembles a raw egg. Once you get this jelly-like texture, you can mix the chia egg with the rest of the ingredients in your recipe.
How to make the perfect Vegan Gluten-Free Oat Banana Pancakes
Making vegan pancakes isn't difficult at all. It basically consists in replacing the two non-vegan ingredients, milk and eggs, and following some basic tips, like the ones I'm sharing with you bellow.
Have all ingredients at room temperature. Room temperature ingredients bond together very easily since they're warmer, creating a smooth batter and resulting in lighter and fluffier pancakes.
Don't overmix the batter. Resist to overbeat the batter. If you whisk it too much, you'll have a tough, too-spongy pancake.
Don't let the pan get too hot, the outside of the pancakes will burn before the inside cooks.The ideal heat to cook your pancakes is over a medium-low heat.
Keep them warm. To do so, preheat oven to 200ºF/100ºC. Line a baking sheet, spread the pancakes on it in a single layer, uncovered, and place the pan in a 200-degree oven.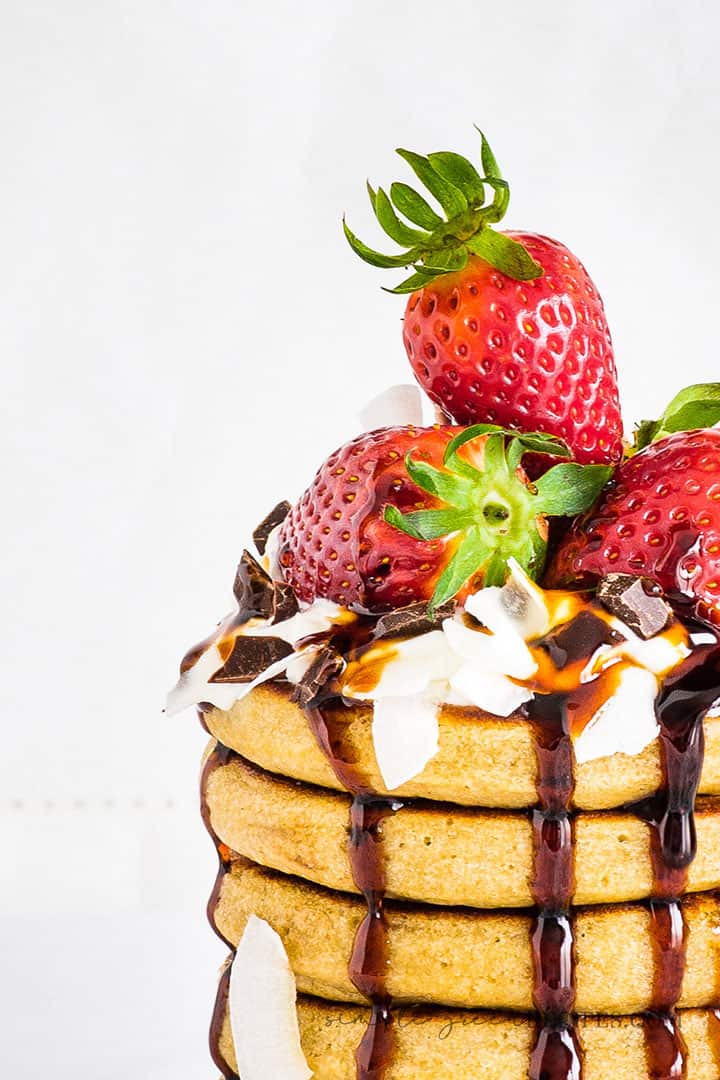 How to freeze pancakes
You can easily make a big batch of these and freeze them for later. First, let them cool at room temperature and then put them in a freezer bag.
Then, just take them out of the freezer and pop in the toaster. You can also reheat them gently in a skillet or even the microwave for a few seconds.
Vegan Gluten-free Oat Banana Pancakes
Vegan Gluten-free Banana Pancakes made in 1 bowl with oat flour, banana and homemade applesauce. It's an easy, uncomplicated batter to mix up but so delicious!
Ingredients
For the Pancakes:
1 ripe banana, mashed
1/2 cup applesauce
2 chia eggs (or 2 chicken eggs for those just looking for a gluten-free recipe)
1 cup plant milk
1+1/2 cup oat flour⠀
1/2 tablespoon baking powder ⠀
For the Toppings:
1/2 cup coconut yogurt
1/4 cup chocolate chunks
1 cup fresh strawberries
4 tablespoons maple syrup
Instructions
Start by preparing the chia eggs. You will need two of them, so mix 2 tablespoons of chia seeds with 6 tablespoons of water. Leave to rest for 5-10 minutes or until it thickens and resembles a raw egg.
Combine the flour and baking powder in a large bowl.
In a medium bowl, combine together the chia eggs, mashed bananas, applesauce and plant milk, whisking until well mixed. Pour into the dry ingredients and mix until a smooth batter forms.
Heat your skillet to medium-hot and grease it with a bit of vegetable fat.
Pour about 1/4 cup of batter per pancake onto the skillet.
Cook on one side until bubbles form around edges, about 2 minutes. Flip and cook on other side for another 1 – 2 more minutes. Repeat with the remaining batter.
Serve warm with a dollop of coconut yogurt, 1 teaspoon of chocolate chunks, some fresh strawberries and a tablespoon of maple syrup. Oh, and enjoy!
More vegan gluten-free breakfast from Simple Green Recipes:
Gluten Free Vegan Poppy Seed Pancakes
Easy Vegan Gluten-Free Waffles
More pancake ideas from favorite blogs:
Chocolate Lemon Pancakes from Half Baked Harvest