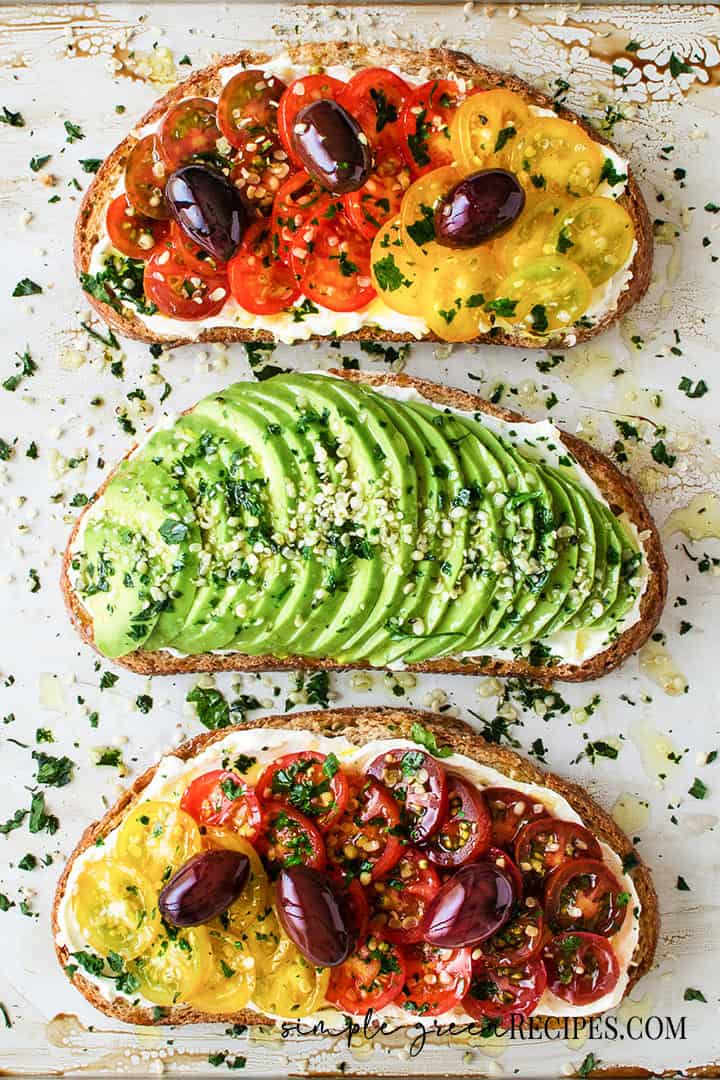 Hi there! Looking for vegan toast ideas? Look no more! Try my Vegan Breakfast Toasts 2 Ways with juicy summery tomatoes and the nutrient-dense avocado and you won't go back to the normal peanut butter & banana toasts again!
As you have possibly heard and read a few times, breakfast is the most important meal of the day. And, frankly, I truly believe it. Whenever I don't eat a proper breakfast, I'm less energetic and my attention span is shorter. Can you relate?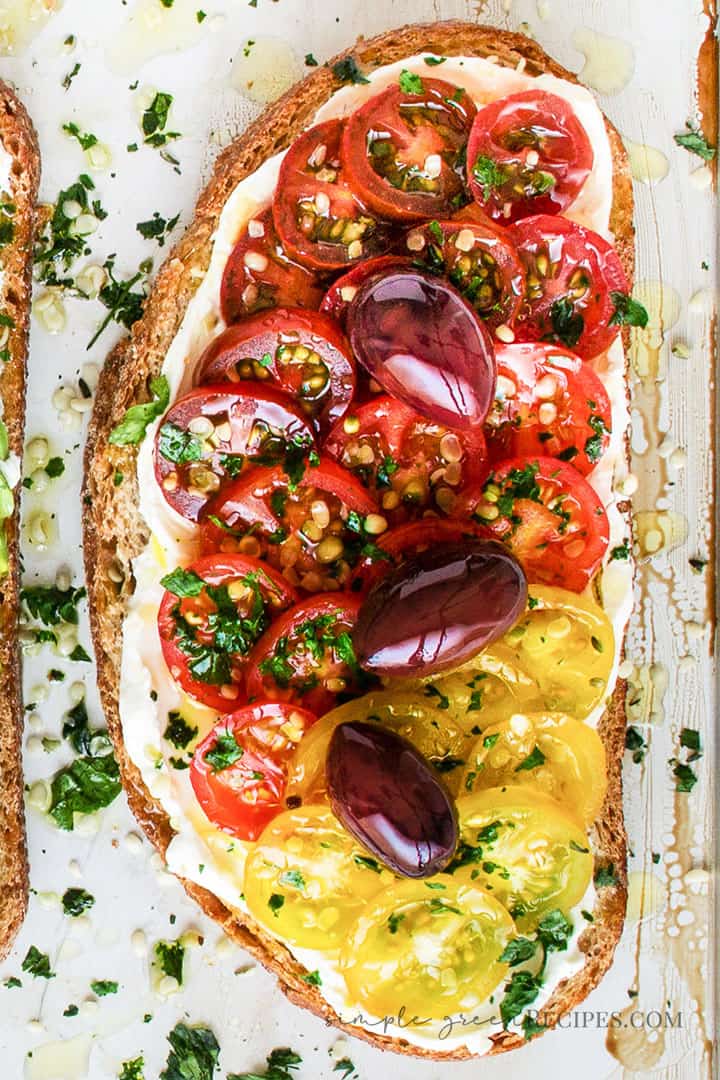 Unless you have just landed on my blog, it's pretty obvious I'm a breakfast fan and a dessert lover. And, although this is true, little confession here, I happen to also be a toast enthusiast. But really, who can resist a crunchy toasted slice of flavourful sourdough topped with rich vegan cream cheese and juicy mellow veggies? Not me, certainly. And I bet you neither. So, let's the toast party begin.
I'm sharing with you today one of my favorite combos, Vegan Breakfast Toasts 2 Ways: sourdough toasts with thinly sliced tomato and avocado, all topped with the tasty and meaty Kalamata olives. My all-time favorite olives.

Want more vegan toasts ideas?
I guess at this point you're more than willing to experiment with vegan toast ideas, and, yes, you're absolutely right, the combinations are endless! Are you a sweet breakfast lover or a savory kind of person? When it comes to toast it doesn't matter because you can satisfy either craving. Let's dress up your toast and make it a healthy meal.
Sweet Toasts: cherry & kiwi toasts on top of a generous layer of vegan cream cheese, peanut butter & raspberry jam topped with cherries and raspberries, almond butter &kiwi, peanut butter & banana.

Savory Toasts: toast with garlic and thyme topped with mushroom, roasted Heirloom tomato & vegan pesto, roasted beet, arugula & cream cheese
RECIPE
Vegan Breakfast Toasts 2 Ways
Try these Vegan Breakfast Toasts 2 Ways, with juicy summery tomatoes and the nutrient-dense avocado on top of some toasted slices of your favorite bread, and you will make them a staple in your summer menu.
Ingredients
3

slices

of bread of your choice

3

tablespoons

vegan cream cheese

feel free to add more if you prefer a thicker layer

2

cups

cherry tomatoes

3 colors

1

avocado

½

cup

Kalamata olives

1

teaspoon

hemp seeds

1

teaspoon

chopped parsley
Instructions
Cut three slices of bread.

Toast the bread slices until they are just light golden brown. Do not toast them too dark, I have found that they hold their toppings best.

Spread 1 tbsp of cream cheese onto each toast.

Rinse the tomatoes with cool water, pat them dry, and use a sharp knife to cut them thinly.

Place the sliced tomatoes onto two of the toasts.

Slice the avocado and top the third toast with it.

Finally, sprinkle the hemp seeds and chopped parsley on the toasts and top everything with the Kalamata olives. Enjoy!
More vegan toasts ideas from Simple Green Recipes:
Cherry & Kiwi Toasts with Vegan Cream Cheese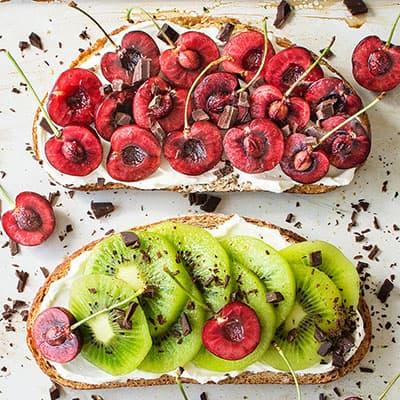 Vegan Bagels with Strawberries & Preserved Peaches