These 5-Ingredient Vegan Gluten-Free Waffles are made with simple ingredients. They just require 2 minutes of preparation and are ready in less than 20 minutes. They are quick, easy and naturally sweetened. And you're going to love the toppings, a mixture of fresh berries, coconut and chocolate, a heavenly combo!
Don't know about you but I can't get enough of strawberries this season, they are just on point now, so sweet! So, topped one of my favorite oatmeal waffle recipes with them and some other goodies. Here, you can get really creative, I choose whipped coconut cream, strawberries, chocolate chunks and, maple syrup as the natural sweetener.
I love everything about these 5-ingredient vegan gluten-free waffles. First, they are extremely quick and easy to prepare, with only a few basic ingredients that everyone has at hand. Second, making my own waffles means that I have complete control over the ingredients, which for me is the best thing about homemade. Moreover, this simple oatmeal waffle recipe turns out great every time I make it.
Waffles make me think of those lazy weekend mornings when you feel like treating yourself with a vegan breakfast that tastes like dessert! These soft on the inside and crispy on the outside oatmeal waffles couldn't be simpler and healthier.
Prep ahead /make ahead tips:
Prep ahead. In general, I prefer to make my waffles just before I'm going to eat them. And, if possible, I love to have them hot out of the waffle maker. But, I don't always feel like cooking in the morning, specially during the weekend.
So I sometimes make the batter the night before and place it in the refrigerator. You might find that the baking powder has lose some of it effectiveness. If the first waffle doesn't rise enough, add some extra baking powder into the batter and gently stir it in.
Make ahead. I also tend to make a big batch and freeze them. To do it, freeze them on a baking sheet with parchment paper until completely frozen. Once they are frozen store them in an airtight bag.
When you're going to use them, just reheat the waffles right in the toaster until warm and crisp. Alternatively, you can also place them on a lined baking sheet, heat the oven to 350ºf/180ºC, and reheat for around 5-7 minutes. And that's it, no extra prep needed.
More topping ideas for oatmeal waffles:
Chocolate spread, blueberries, sliced bananas, peanut butter and crushed almonds.

Dairy-free Heavy Cream and fresh berries.
RECIPE
5-Ingredient Vegan Gluten-Free Waffles
5-Ingredient Vegan Gluten-Free Waffles that are made with simple ingredients. They just require 2 minutes of preparation and are ready in less than 20 minutes. They are quick, easy and naturally sweetened.
Ingredients
For the Waffles:
1

cup

oatmeal

½

teaspoon

baking powder

1

cup

almond milk

¼

cup

coconut oil

1

tablespoon

agave syrup

1

pinch

of salt
For the Toppings:
1

cup

strawberries

halved

1

cun full-fat coconut milk

1

tablespoon

chocolate chunks

1

tablespoon

maple syrup
Instructions
The day or night before, place the coconut milk can in the fridge to refrigerate. Once ready to use it, turn the can upside down, open and drain the liquid. Scoop the thick white cream and place it into a mixing bowl. Whip until fluffy on medium speed, turn to high speed and beat until stiff peaks form. Keep in the fridge.

Cut the strawberries in half and set aside. 

Preheat waffle iron according to manufacturer's directions.

Combine all ingredients in a blender and blend until smooth, about 20 seconds.

Scoop about ¼ cup of batter into each waffle mold and cook for 2-3 minutes or until golden brown. Time will vary depending on your waffle maker.

Top with the whipped coconut cream, halved strawberries and chocolate chunks.

Drizzle with maple syrup all over your waffles and enjoy!
More vegan waffles from Simple Green Recipes:
Easy Vegan Gluten-Free Waffles
Gluten-free Vegan Buckwheat Waffles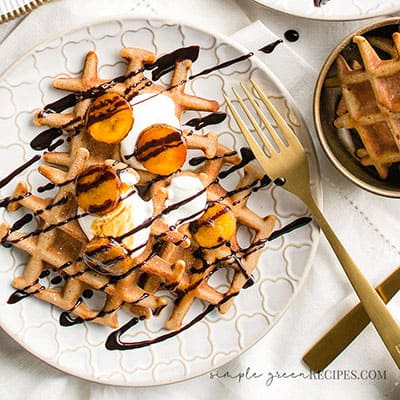 More breakfast recipes from favorite blogs:
Gingerbread waffles from A Virtual Vegan