This Vegan Buddha Bowl is a delicious combo of colorful veggies, rice noodles and warm grains. Perfect for any season, this healthy buddha bowl is plant-based, dairy-free and gluten-free.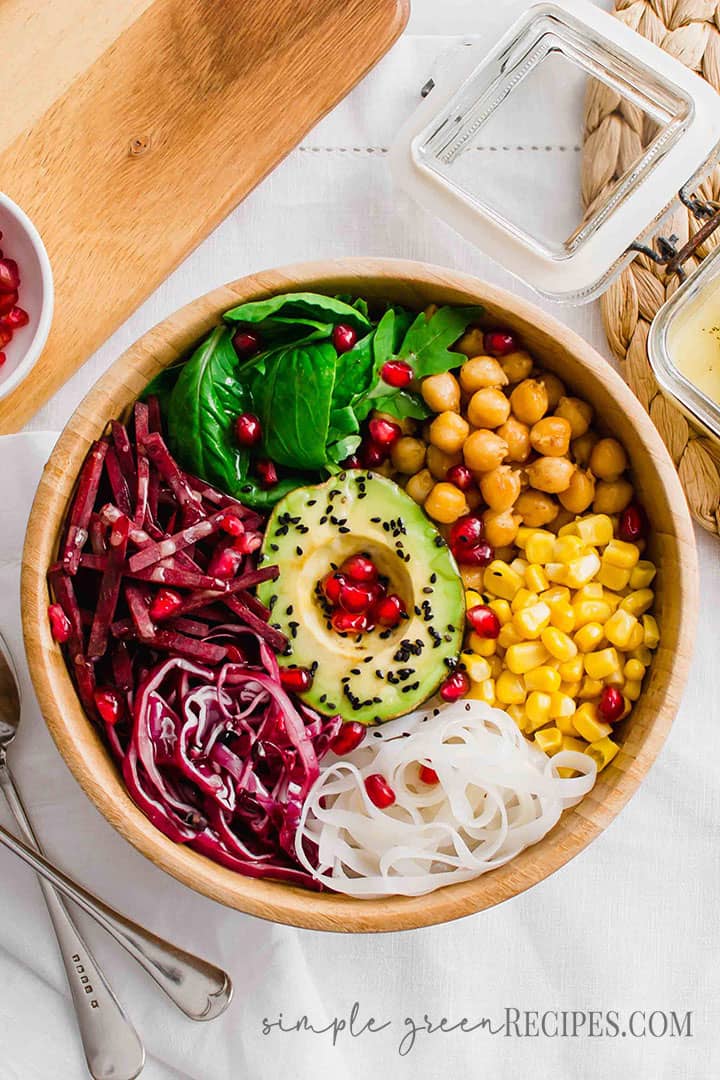 Vegan Buddha Bowl
Looking for new ideas for your lunch or dinner? Say hello to this easy vegan buddha bowl and forget about lengthy and laborious recipes. If you're anything like me, any opportunity to save time cooking weekly meals is a welcomed one.
One of the first things I did when I was vegan was to look for easy and quick ways to eat healthy without spending much time in the kitchen. So, I quickly became a vegan bowls fan. They are fully customizable to your taste and to each season and perfect if you're a meal prep lover. Oh, and they're also great for those who are into batch cooking.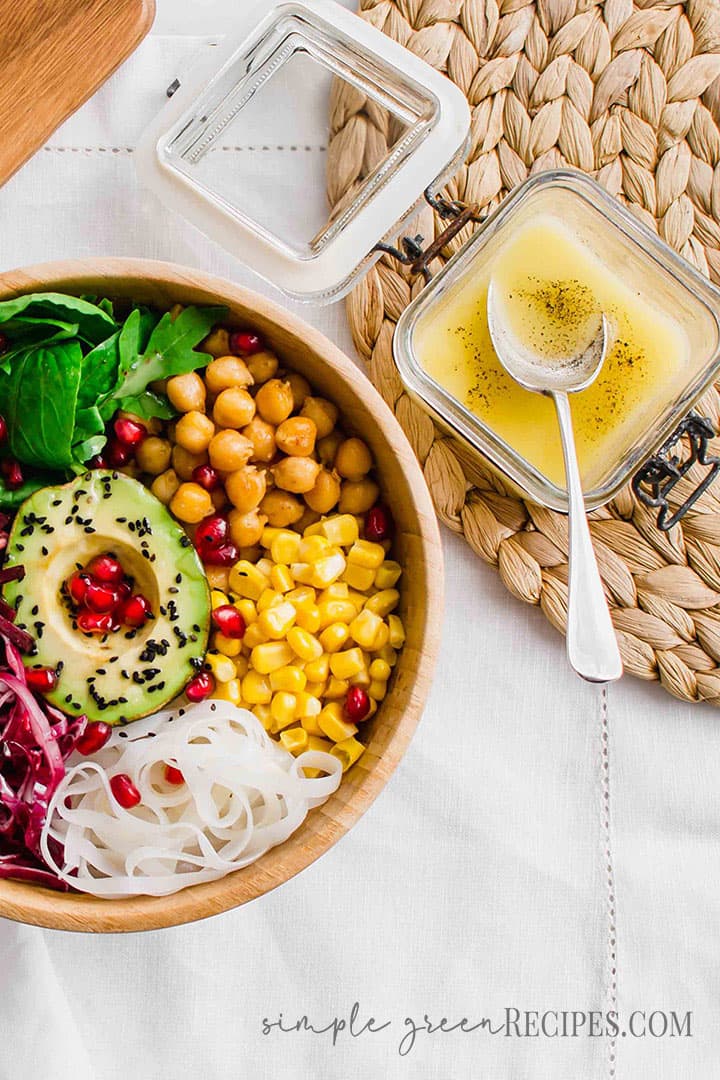 What is a Vegan Buddha Bowl?
If you ask me, I will certainly tell you that it's one of my favorite food to prepare. I love the idea of sitting in front of a brightly colored and lovely arranged veggie bowl. Such a pleasure for a foodie photographer like me!
Anyway, you don't need to spend any time making buddha bowls attractive if that's not your thing. They don't require much thinking or prep in advance either, in fact, this is really one meal that is made for improvisation and customization.
Ingredients for a Vegan
Buddha Bowl
Don't worry. There are no strict rules for what a vegan buddha bowl consists of. You can simply use what you have on hand and the ingredients you like the most.
A good rule of thumb is to include some raw or steamed vegetables, whole grains, legumes or tofu, and toppings such as seeds, nuts and micro greens. To finish, a great choice is to drizzle the bowl with a healthy and light dressing.
As for the veggies, I use what's in season, that is lots of fresh veggies in the summer, like tomatoes, lettuce, arugula, radishes and watercrest. For fall and winter I prefer steamed vegetables such as spinach, green beans, broccoli, kale, carrots, cabbage combined with some fresh seasonal like beets and celery.

Then, I alternate between the different grains like rice, quinoa, buckwheat and millet. I also love rice noodles as you may have realized.

The third main component are the plant protein. I basically use legumes, tofu, tempeh or seitan. Legumes and tofu are my favorite. If you haven't tasted any soy product yet, I recommend you starting with tofu since it's the one with the mildest taste.
How to make a delicious healthy Buddha Bowl
I normally cook the legumes, tofu or tempeh and the whole grains at the same time, each one in a separate saucepan. I often use organic canned legumes and beans, they're very convenient.
While those are cooking, you can prep the veggies. Wash and chop them, set aside. If you're going to include steamed veggies, cook them now.
Prepare the dressing and the toppings.
Once the legumes and the grains are done, it's time to assemble the bowls.
Divide the legumes and the grains into 2 bowls, add the veggies along the sides. Sprinkle with the chosen toppings and drizzle with your favorite dressing. That's it! Easy, quick and no fuss meal.
How to make Lemon Vinaigrette
There are various types of vinaigrettes, although the Lemon Vinaigrette is one of the easiest and pairs beautifully with vegan bowls and green salads. And, last but not least, it's super quick, it's ready in 5 minutes.
Lemon Vinaigrette is made up basically of lemon, oil, salt and pepper. It's really simple, but the flavor is terrific. The amounts depend on each one's taste but, in general, it consist of one part of lemon for two parts of oil.
I'm sure you already have a favorite dressing but I really recommend you try this vinaigrette. You won't regret it. It's fresh, light and not overly tangy.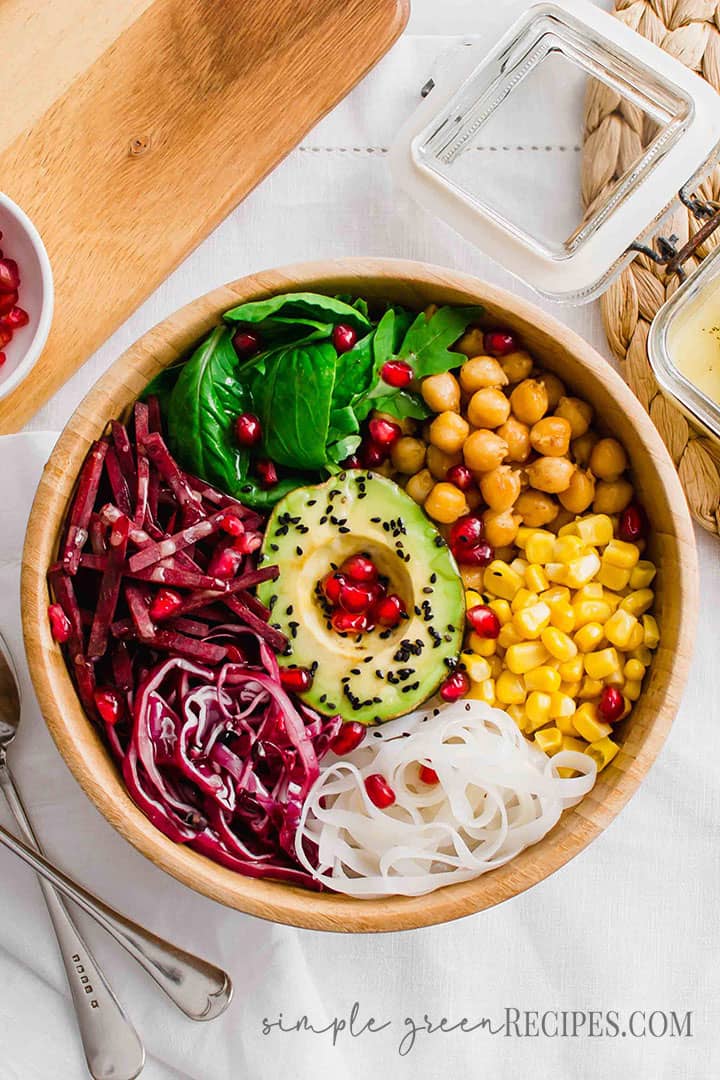 I think you'll love this delicious vegan buddha bowl and its dressing. Enjoy every spoonful!
RECIPE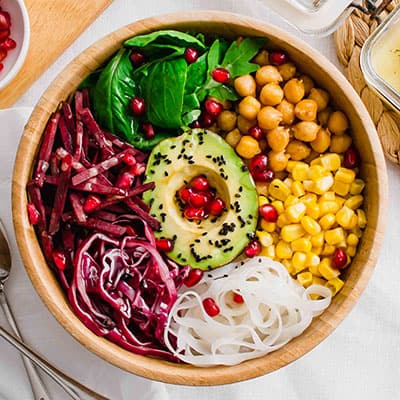 Vegan Buddha Bowl
This Vegan Buddha Bowl is a filling combo of colorful veggies, rice noodles and warm grains. Perfect for any season, this buddha bowl is plant-based, gluten-free, dairy-free and clean-eating.
Ingredients
For the Lemon Vinaigrette
⅔

cup

olive oil

⅓

cup

lemon juice

1

teaspoon

mustard

optional

¼

teaspoon

salt

a pinch of ground black pepper
For the Vegan Buddha Bowl
1 15-

ounce

can chickpeas

8,5 oz cooked chickpeas

4

ounces

raw rice noodles

1

cup

red cabbage

chopped

1

cup

beetroot

chopped

1

cup

arugula

1

cup

baby spinach

1

avocado

5

ounces

sweet corn

drained

½

Pomegranate

or nuts, seeds
Instructions
Start by cooking the rice noodles. Place the rice noodles in a deep bowl. In a medium saucepan, bring water to boil. Add the boiling water to cover the noodles and let them soak until tender, around 8-10 minutes, stirring from time to time to keep them from sticking together. 

Once the noodles are tender, drain them, refresh with cool water and drain again. Set aside. 

While cooking the noodles, prepare the dressing. To make the Lemon Vinaigrette, just whisk all of the ingredients together in a bowl. Most of the time, I use an empty jar with its lid, pour in all the dressing ingredients and shake until combined. I find this way quicker and less messy.

Next, wash, drain and chop the fresh veggies. Set aside.

Now, it's time to assemble the bowl. Divide the noodles and chickpeas into two bowls. Arrange the fresh veggies and the sweet corn around. 

When ready to serve the bowls, peel and slice the avocado, and divide it into the bowls. Top with the pomegranate seeds and drizzle with the lemon vinaigrette. 

Leftovers keep well for up to 4-5 days in the fridge.
If you liked this recipe don't forget to Pin and share with your friends!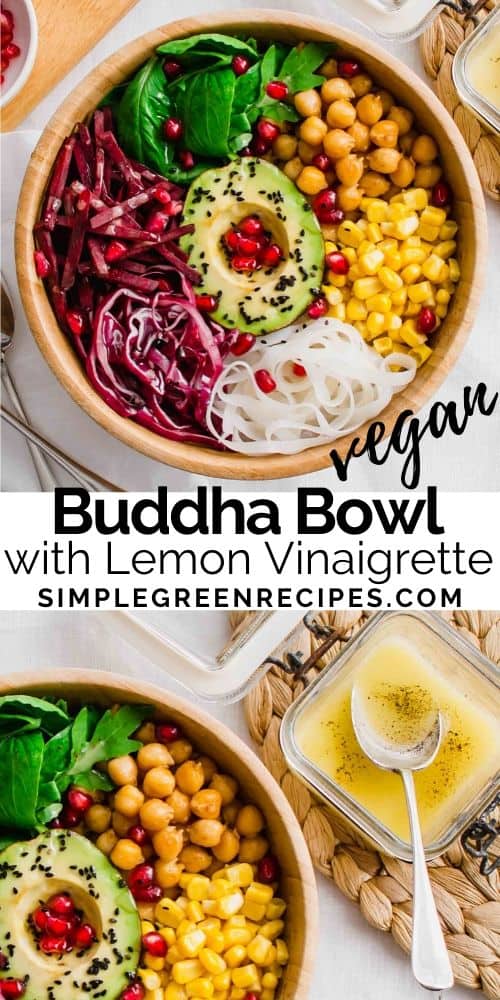 Did you make this recipe? Tag

@simplegreenrecipes

on Instagram
---
More vegan savory from Simple Green Recipes
Teriyaki Chickpea Avocado Buddha Bowl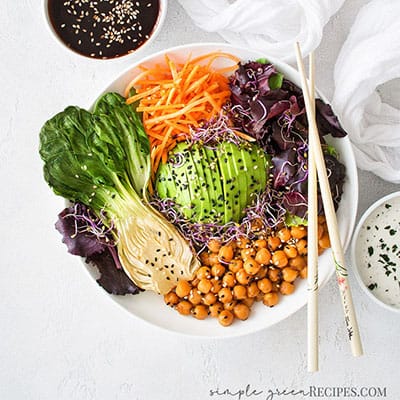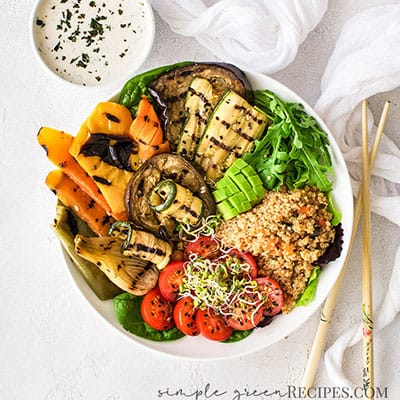 ---
More vegan recipes from favorite blogs
Vegan Salads by Minimalist Baker